Black Comedy Goes Bawdy in Horrible Bosses
Christa Banister, Crosswalk.com Contributing Writer
Friday, July 08, 2011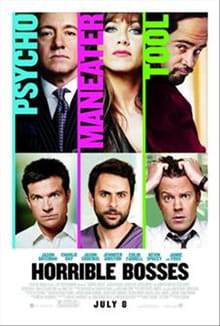 As for poor Dale (Charlie Day, TV's "It's Always Sunny in Philadelphia"), a dental assistant who recently got engaged to the girl of his dreams, his manager, Dr. Harris (Jennifer Aniston, Just Go With It) is constantly making inappropriate sexual advances—on the clock, no less. Telling him it'll only get worse the closer it gets to his wedding, she keeps trying to seduce him, even threatening to his show fiancée some compromising photos she took while Dale was knocked out during a dental procedure.
With their respective motives established, the story only gets zanier as the guys seek advice on how to carry out the job. After unsuccessfully tracking down someone from a newspaper ad, Nick, Kurt and Dale stumble into a bar in a particularly rough side of Los Angeles. After nearly getting kicked out for being three dopey white guys seeking out murder advice in an establishment filled with tough-looking African Americans, Jamie Foxx's (Rio) character (we can't print his name since it's an expletive) eventually steps up and says he can help—for a cool 5k.
Since Mr. Expletive just left the clink himself (his crime is just one of the film's many funny revelations), the guys are quick to take his advice, which amounts to what's basically the plot of Hitchcock's Strangers on a Train where people get away with murder by merely swapping each other's targets.
As expected, nothing ends up going as Nick, Kurt and Dale expected (or even close), and the situation escalates in a hurry, thanks to a slew of rookie mistakes. And like the original installment of The Hangover, Horrible Bosses thrives from the madcap charm and sheer outrageousness of the ensuing hijinks, not to mention great chemistry between the lead actors.
Despite its many comedic achievements, however, Horrible Bosses will probably still offend more than entertain because the writers routinely scrape the bottom of the barrel for laughs (see Cautions below). In addition to a slew of sexually explicit language and shameless innuendos that make it every bit an R-rated affair, especially from Aniston who is, no doubt, hoping we'll forget all those lame rom-coms she's starred in lately, there's just some places that even a dark comedy shouldn't go. And Horrible Bosses crosses that line again and again, much to the detriment of anyone hoping for a funny diversion from the 9-to-5 grind without feeling like he/she needs a good, long shower afterward.

CAUTIONS:
Drugs/Alcohol: Post-work social drinking. Nick's boss tricks him into drinking scotch at 8:15 a.m., only to call him an alcoholic later on. Gas is used to lull dental patients to sleep while they get their fillings and surgeries. Bobby routinely gets smashed and uses coke at work. In a scene that's played for maximum laughs, Nick and Dale get high from a large cloud of cocaine while doing recon work in Bobby's apartment.
Language/Profanity: "Pervasive" is definitely the right word here as there is a steady stream of expletives throughout. Fu—(and its variations) definitely gets the most use, while sh--, he--, dam-, god-amn, as-, as-hol, bit-- are also used frequently. Jamie Foxx's character's first name is motherfu--er. Gay slurs, plus cruel verbal cracks directed toward a man in a wheelchair and an overweight woman.
Sex/Nudity: Several crude references to male and female genitalia and explicit description of specific sexual acts, especially from Dr. Harris who is sexually harassing her engaged dental assistant, Dale. In an attempt to seduce Dale, Dr. Harris shows up wearing nothing under her lab coat (the sides of her breasts are shown). Dr. Harris routinely makes her advances when patients are asleep in the chair and even touches a few of them inappropriately as well. She also has several compromising pictures that she doctored of herself and Dale in various sexual positions that she threatens to show to Dale's fiancée if he doesn't sleep with her—pronto. Dr. Harris pleasures herself in the bathtub (her body is strategically covered by bubbles) while Dale tells her what he'd do to her sexually by phone. Dressed in only her bra and undies, Dr. Harris simulates oral sex on a banana and eats a hot dog in a suggestive manner. When trying to find a hit man, Dale accidentally ends up calling a guy who urinates on other men for money. Bobby is entertained by a group of call girls (one is a man) at the office. Kurt is rather sex-crazed and ends up sleeping with Dr. Harris and Dave's wife, Rhonda (Julie Bowen, TV's Modern Family). Later on, doing a recon mission, Kurt sticks a toothbrush, razor and dental floss where the sun doesn't shine. Nick says he hasn't had sex with anyone but himself in six months. Dale is on the sex offender's registry for getting caught peeing on an empty playground late one night. Kurt and Nick debate who'd get raped more if they went to prison.
Violence: SPOILER ALERTS: When the guys' murder plot goes seriously awry, Dave ends up killing Bobby with two shots. Dale unexpectedly ends up saving Dave's life by administering an antidote for his peanut allergy. Not really knowing what to do, he stabs him again and again with the needle. There's also a car crash and several perilous situations as the guys attempt to off their bosses.
Have something to say about this article? Leave your comment via Facebook below!
advertise with us
Example: "Gen 1:1" "John 3" "Moses" "trust"
Advanced Search
Listen to Your Favorite Pastors