Blindingly Bad Whiteout Is a Blizzard of Balderdash
Christian Hamaker, Crosswalk.com Contributing Writer
Monday, September 14, 2009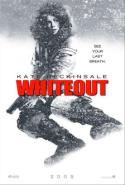 DVD Release Date: January 19, 2010
Theatrical Release Date: September 11, 2009
Rating: R (for violence, grisly images, brief strong language and some nudity)
Genre: Suspense, Thriller
Run Time: 101 min.
Director: Dominic Sena
Actors: Kate Beckinsale, Tom Skerritt, Gabriel Macht, Columbus Short, Alex O'Loughlin, Shawn Doyle

Kate Beckinsale's career once looked promising, but her willingness to take paycheck jobs like Whiteout isn't helping her career. The actress who made such a lovely splash with Cold Comfort Farm way back in 1995 and appeared in interesting films such as Whit Stillman's The Last Days of Disco (1998) has since made three movies in the Underworld series, starred in the borderline torture-porn film Vacancy, and now appears in the abysmal Whiteout.
Those performances no doubt pay the bills and allow her to star in more interesting, if not always successful, films like David Gordon Green's Snow Angels and Rod Lurie's Nothing but the Truth, which was a showcase for great performances, including Beckinsale's. But the ratio of bad to good Beckinsale movies is widening, and isn't trending in the right direction.
More disturbing, Beckinsale's choice of material is ever more inexplicable. Was she so blinded by the Whiteout story that she couldn't see how disastrous the final result would be?
The actress plays U.S. Marshal Carrie Stetko, stationed in Antarctica—which the movie informs us is "the coldest, most isolated land mass on the planet," in case you thought Cleveland might already have that title. The obviousness of that opening telegraphs the obviousness of everything else that's to come.
Stetko is stationed in Antarctica following a job gone horribly wrong—an event relayed in flashback multiple times, ostensibly to reveal Stetko as a tortured soul of some sort, because she had to shoot an assailant. Will she be able to pick up a gun again if needed?
She'll need to, of course, after a body turns up and an investigation ensues. A decades-old plane crash is uncovered. The Soviets are involved. A U.N. special agent (Gabriel Macht) is sent to keep the incident from blowing up into an international scandal and to give Stetko a potential romantic interest, but he just might have ulterior motives.
A rapidly approaching storm (they never fail to materialize, or veer off-course, but what else would you expect in a movie titled Whiteout?) means the marshal and her team need to wrap up the investigation and leave in a matter of hours—or stay stuck in Antarctica for months, with a killer on the loose.
Who's the bad guy? Is it the hunky, moody Australian (Alex O'Loughlin)? The friendly Coast Guard pilot (Columbus Short)? Or kindly old Doc (Tom Skerritt, who used to star in great movies like A River Runs Through It, but whose career took a Beckinsale-like dive soon thereafter)? Doc is a doctor, in case you couldn't figure that out from his name, who just wants to get back home to his granddaughter.
The film starts with a needless shower scene featuring Beckinsale (gotta give the boys something to imagine beyond Beckinsale's pretty face) and concludes with an extended outdoor fight that immerses viewers in the middle of the action—squinting and confused as to who's who. The filmmakers probably count that as a success. Viewers, not so much.
Have something to say about this article? Leave your comment via Facebook below!
advertise with us
Example: "Gen 1:1" "John 3" "Moses" "trust"
Advanced Search
Listen to Your Favorite Pastors