Bolt Has Plenty of Bark and Comedic Bite
Christa Banister, Crosswalk.com Contributing Writer
Friday, November 21, 2008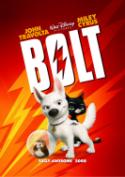 DVD Release Date: March 24, 2009
Theatrical Release Date: November 21, 2008
Rating: PG (for some mild action and peril)
Genre: Family, Comedy, Animation
Run Time: 96 min.
Director: Chris Williams
Voices by: John Travolta, Miley Cyrus, Susie Essman, Mark Walton, Malcolm McDowell, Greg Germann, Dan Fogelman, Chloe Moretz, Ronn Moss
Much like this summer's Tropic Thunder where a group of spoiled actors discover the war movie they're making is, well, the real thing, Hollywood has a little more fun at its own expense in Bolt (minus the excessive violence, gratuitous language and the whole controversy factor, mind you).
For starters, there's a group a hustling pigeons with a few ideas of what makes great television (aliens!), and the smarmy, smooth-talking agent who believes the best way to comfort a client in need is by booking her on The Tonight Show. And then, of course, there's the fuzzy line between reality and fantasy with our canine protagonist. But thankfully, the story never gets so insider-y that the audience feels alienated in the process, and ultimately, there's plenty of laughs for kids and their parents alike.
Before Bolt (voiced by John Travolta) starts believing he has superpowers, he's just a darling little puppy living at your standard-issue pet shop. Impressed by his sad-eyes cuteness and impressive array of doggy tricks, Penny (voiced by Miley Cyrus) decides to adopt him. Before the script has an opportunity to get too cutesy, however, the story immediately fast-forwards five years. Picking up the pace considerably in a fantastically crafted action scene, Penny and Bolt are now being chased by evil henchman while trying to rescue her dad from the menacing Dr. Calico (voice by Malcolm McDowell).
As the stars of a popular TV show appropriately titled Bolt, the only one who doesn't realize he's surrounded by actors, boom mics and a menagerie of special effects is the pooch himself. And everything gets really confusing for Bolt after the network's head honcho informs the staff that the key demographic is sick of happy endings. So to give the show that much-needed "edge," they write an episode that involves Penny being kidnapped. Thinking "his person" is in danger, Bolt tries to rescue her, only to mistakenly get shipped across the country to the Big Apple.
With no cushy, heat-controlled trailer or gourmet meals delivered on demand, Bolt is majorly lacking in survival skills in his new surroundings. Before long, though, he meets a street-wise alley cat named Mittens (voice by Curb Your Enthusiasm actress Susie Essman), who teaches him the ways of the dog-dom, right down to begging—a skill the perpetually hungry Mittens finds particularly lucrative. But Bolt isn't exactly interested in hanging out with Mittens permanently because he's itching to get back home to Penny.
When push comes to shove and life gets increasingly difficult as he makes the cross-country jaunt, Bolt slowly begins to realize that his "super bark" and every other cool trick he used to know aren't exactly real. But thanks to the constant insight of the smart-alecky Mittens, who becomes an unlikely friend and readily proves to cat lovers that felines may indeed be smarter than their canine counterparts, Bolt starts embracing life as a "normal" dog. With Mittens' encouragement, he sticks his head out the window to feel the wind in his fur. And he learns to fetch—and absolutely loves it.
Have something to say about this article? Leave your comment via Facebook below!
advertise with us
Example: "Gen 1:1" "John 3" "Moses" "trust"
Advanced Search
Listen to Your Favorite Pastors