Exuberant Boyhood Soars before Hitting Teenage Skids
Christian Hamaker, Crosswalk.com Contributing Writer
Friday, July 18, 2014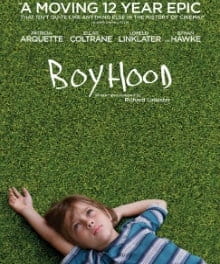 Release Date: July 18, 2014
Rating: R for language including sexual references, and for teen drug and alcohol use
Genre: Drama
Run Time: 166 min.
Director: Richard Linklater
Actors: Ellar Coltrane, Ethan Hawke, Patricia Arquette, Lorelei Linklater, Marco Perella, Brad Hawkins
At 166 minutes, Boyhood (directed by Richard Linklater of the Before Sunrise trilogy) runs one minute longer than director Michael Bay's Transformers: Age of Extinction, released three weeks ago. But that's where any similarity between the two films ends. Bay's film exemplifies the type of blockbuster that impresses through computer effects wizardry but has no beating heart. Linklater's film is, by contrast, all heart. Its main special effect is the essential humanity shown through its depiction of one boy's growth and maturation.
Boyhood was filmed in small pieces annually over more than a decade, using the same actors, who age before our eyes. It's a magnificent experiment that succeeds in a fashion so spectacular that not even the most dazzling CGI-driven summer popcorn movie can match it.
However, Boyhood isn't perfect. Like most of the overextended, big-budget stories on the big screen, it goes on a little too long and has trouble sustaining the wonder of its first half. But the film's first half—nearly feature length in itself—is so uniquely fascinating that it carries the film through the mellow, meandering teenage years of its protagonist, Mason (Ellar Coltrane).
Mason is six years old at the beginning of the film (he'll be heading off to college by the story's end), and his mom, Olivia (Patricia Arquette), is on the cusp of a major life change: She's decided to return to college so she can complete her degree and land a better-paying job. The decision entails a return for the family, including Mason's sister Samantha (Lorelei Linklater), to Houston, where their father, Mason Sr., also has recently returned.
We can see why Mason's mom is no longer with his father, who drives an old GTO, writes songs in his spare time and lives in a junky residence with a musician who can't be bothered to clean up their place. Mason Sr. clearly loves his children but hasn't figured out how to keep a steady job and take on the responsibilities of full-time parenthood.
Thanks to great chemistry between Boyhood's multi-generational actors, the film's early scenes of Olivia and Mason Sr. interacting with their kids have an effortless naturalistic quality. And it's not just the cute kids who make an impression. One of the film's pleasant surprises is just how affecting the adult performers are in Boyhood. Familiar to viewers from years of movie and TV work, Arquette and Hawke give the film much of its grounded authenticity, convincing us that Olivia is as dedicated to making a better life for her children as Mason Sr. is to living for the moment and being generally unreliable.
Indeed, with a few adjustments, Boyhood could have been titled Marriage and focused on the perils of picking the wrong spouse—more than once in Olivia's case. We don't see the unraveling of Olivia's and Mason Sr.'s marriage, which is over as the movie begins, but we watch as working-mom Olivia struggles to raise the children and as Mason Sr. tries to have a carve out a role in their lives by spending time with them on the weekend. Adult viewers can glean enough information quickly to know what the kids haven't fully processed—that Mason Sr. wasn't ready for marriage (much less parenthood). And yet, the kids listen patiently to their dad's advice about life and seem no less bored or concerned in his presence than they do in their mom's.
Have something to say about this article? Leave your comment via Facebook below!
advertise with us
Example: "Gen 1:1" "John 3" "Moses" "trust"
Advanced Search
Listen to Your Favorite Pastors