Butter Anything but Smooth and Creamy
Shawn McEvoy, Managing Editor, Crosswalk.com
Friday, October 05, 2012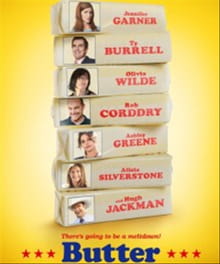 DVD Release Date: December 4, 2012
Theatrical Release Date: October 5 (limited)
Rating: R, for language, sexual content, and brief drug use
Genre: Comedy-Drama
Run Time: 91 mins.
Director: Jim Field Smith
Cast: Jennifer Garner, Ty Burrell, Yara Shahidi, Olivia Wilde, Alicia Silverstone, Rob Corddry, Ashley Greene, Hugh Jackman, Kristen Schaal
This comedy is "the story of greed, blackmail, sex, and butter," says Jennifer Garner's Laura Pickler in the opening voice-over for Butter.
But wait. Actually this film wants to say something about idolatry in Middle America, about how we give lip service to God but make gods of ourselves. Or so an early shot of a butter-carved cow (golden calf, anyone?) - the first butter sculpture we're treated to - would lead us to believe.
Hold up a second, though. Didn't that opening sequence showing Garner (The Odd Life of Timothy Green) coming out on stage for an election rally strongly suggest that this is a political satire in which she's an obvious Sarah Palin voodoo doll?
Or maybe what we have is a drama about the ups-and-downs of the foster parenting and adoption processes, about finding talent and forgiveness in strange places. At least that's the part of the story where the most interesting characters live.
See the problem yet? I'm trying to imagine the person who would love consuming this melty mess. Ultimately, there's just not enough popcorn to soak up everything Butter wants to be. It's neither satirical enough, straight enough, comedic enough nor artistic enough, though it aims for all of the above. And that's too bad because there are a few lines, characters, and moments that deserve a better film.
Bob Pickler (Ty Burrell, Morning Glory) has a talent for turning yellow dairy solids into things of beauty. For fifteen years, this has afforded him and his wife Laura (mostly Laura; Bob's more laid-back) a life of influence and fame in their corner of Iowa. When Bob is asked by the powers-that-be of butter carving to "step down and let someone else have a turn," he's too quick to acquiesce, causing Laura to go all Lady MacBeth on Bob. All-too-familiar with Laura's evil ways is Kaitlen (Ashley Greene, Twilight), Bob's teenage daughter from a previous relationship who takes to eye-rolling and making snappy comments like "cover your [groin], Dad."
We're also introduced to young Destiny (Yara Shahidi), a ward of the state who is shuffled from foster family to foster family without ever finding a fit (is she the only black person in Iowa?) until she's paired with the Emmets (Alicia Silverstone in her best work since 1995's Clueless, and the likeable Rob Corddry). Destiny once snuck into Bob's butter box at the State Fair and improved upon a grail at The Last Supper (read into that what you will), indicating an innate talent for butter carving. Who knew that was a thing?
Laura, meanwhile, despairing her potential loss of status, "luckily" happens upon Bob's tryst with stripper/prostitute Brooke (Olivia Wilde, Cowboys & Aliens), giving Laura the ammunition to enter the butter carving contest herself (with Bob's help, lest she rat him out to the town) in order to keep the Picklers front and center in the community.
Have something to say about this article? Leave your comment via Facebook below!
advertise with us
Example: "Gen 1:1" "John 3" "Moses" "trust"
Advanced Search
Listen to Your Favorite Pastors