Chan's Charms Wear Thin in Humorless Spy Next Door
Christa Banister, Crosswalk.com Contributing Writer
Friday, January 15, 2010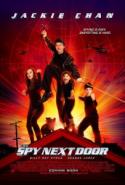 DVD Release Date: May 18, 2010
Theatrical Release Date: January 15, 2010
Rating: PG (for sequences of action violence and some mild rude humor)
Genre: Comedy/Family
Run Time: 92 min.
Director: Brian Levant
Actors: Jackie Chan, Amber Valletta, Will Shadley, Alina Foley, George Lopez, Billy Ray Cyrus, Magnus Scheving, Katherine Boecher
Ever seen Kindergarten Cop? How about The Pacifier, Daddy Day Care or Are We There Yet?

Basically, if you answer yes to any of these, well, then you can safely skip The Spy Next Door—or at least wait for the DVD—because it's essentially the same pseudo family-friendly movie, only far, far less entertaining.

And truth be told, that's really saying something considering the aforementioned comedies starred Arnold Schwarzenegger, Vin Diesel, Eddie Murphy and Ice Cube—actors who haven't exactly shined the brightest when playing the put-upon caretakers to cute and cuddly kids.

However, since Jackie Chan isn't nearly as spry as he once was (give him a break, he is inching toward 56), he's probably looking to diversify his acting resumé. But with a script seriously devoid of laughs and a been-there-seen-that sensibility to boot, The Spy Next Door isn't exactly a step in the right direction. In fact, it's the second-rate fluff that's usually pushed straight to DVD, hence the January release date (the month in the movie biz typically reserved for all the post-Christmas stinkers).

While Chan is still relatively charming as Bob (really, a tribute to his utter likeability, considering how awful the movie is), a dweeby, buttoned-up pen importer working undercover with a few deft kung fu moves left in his repertoire, it's sad when a movie's blooper reel during the end credits far supercedes anything in the actual film. Be forewarned: you'll be waiting a full 92 minutes for those laughs—even bad reality TV can typically deliver much faster.

But for whatever reason The Spy Next Door was green-lighted, Chan's character has somehow charmed his way into the heart of gorgeous single mom Gillian (Amber Valletta), and she's ready to get married—pronto.

While Gillian loves Bob for his sheer dependability (apparently her ex was anything but stable), her three kids are thoroughly unimpressed with their future step dad. Well, until, you guessed it, they discover that the geek with the unfashionable glasses is actually a CIA spy who's currently the target of Russian assassins.

Apparently one of the kids has downloaded a secret Russian intelligence file to their iPod, and before you can say "Haven't I seen this storyline before?" Gillian has to leave town and Bob's in charge of the rambunctious smart-alecks. Of course, Bob doesn't even know the first thing about domestic life (he can't even make a bowl of oatmeal without having it explode), but before things fall apart completely on the homefront, he wins them over with cool gadgets and choreographed fight scenes.

Too bad that most of the audience, save for perhaps, an elementary school-aged kid or two, won't be won over quite so quickly. The dialogue (that it took three writers to pen, natch) is sappy and insipid (see: all of Billy Ray Cyrus' Kentucky-fried banter), and the mild mayhem along the way isn't really anything new either.
Article Page Break Here
Have something to say about this article? Leave your comment via Facebook below!
advertise with us
Example: "Gen 1:1" "John 3" "Moses" "trust"
Advanced Search
Listen to Your Favorite Pastors