Charming Biopic Explores the World of Miss Potter
Lisa Rice, Contributing Writer
Friday, January 12, 2007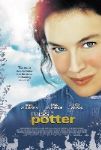 DVD Release Date: June 19, 2007
Theatrical Release Date: January 12, 2007 (wide)
Rating: PG (for brief mild language)
Genre: Drama/Biopic
Run Time: 92 min.
Director: Chris Noonan
Actors: Renee Zellweger, Ewan McGregor, Emily Watson, Lucy Boynton, Barbara Flynn, Matyelok Gibbs, Jane How, Anton Lesser, Justin McDonald, Richard Mulholland, Lloyd Owen, and Bill Patterson
Who of us hasn't been charmed and challenged by the famous story of Peter Rabbit and his naughty exploits in Mr. McGregor's garden? Or Jemima Puddleduck and her charades in her little scarf?
Behind beloved stories as these are authors, some of whose lives are as fascinating as the characters they create. Such is the story of Beatrix Potter, winsomely portrayed in The Weinstein Company's new feature, Miss Potter. With a Sense and Sensibility feel, the movie is a charming look at the challenges of a gentle, but bold woman trying to buck many spoken and unspoken turn-of-the-century rules and establish a commendable career for herself—without neglecting matters of the heart. Though it's a "chick flick" any way you slice it, the filmmakers are careful to avoid an over-the-top feministic slant, and the outcome is both sweet and inspiring.
It is 1902, and Miss Potter (Renee Zellweger) is visiting publishers, most of whom laugh at her aspirations to turn her little animal drawings into story books. "The animals are my friends," she tells one publisher. And indeed, Miss Potter and her active imagination cause the little creatures to actually jump off her pages and get into all sorts of conversations and situations. She tells Peter Rabbit and friends before one meeting, "We must present ourselves to the world, and we must look upon it as an adventure."
Unfortunately, not everyone sees Beatrix's exploits as a worthy adventure. Her mother, Helen (Barbara Flynn) wants Beatrix to focus on marriage prospects, financial security, protection, and learning to run a proper home. She says things like, "That book! I can hardly wait 'till it's finished and forgotten!" Her father, Rupert (Bill Patterson) seems much more open to her pursuits but is continually muted by his vocal wife. He shows clear delight, however, when one publisher chooses to take a risk on Miss Potter and harness her imagination into creating a little hardback. He says, "When you first started this, all I saw was my little girl, but now you're a genuine artist. I'm so proud of you, Beatrix."
One of the brothers in the publishing company is the shy, but encouraging Norman Warne (Ewan McGregor), who gets Miss Potter as his first assignment. In various hilariously chaperoned meetings, he and Miss Potter make plans to create a whole series of books and shake the world with their success. In the meantime, Beatrix befriends Norman's sister, Millie (Emily Watson), a sweet spinster who tries to convince the author that unmarried women have it much better in life, as long as they are lucky enough to have a good friend. Beatrix isn't so sure, though, especially after spending increasing amounts time with the disarming Norman.
Eventually, Norman proposes, but because Beatrix's wealthy family looks down on working men, or tradesmen, they disallow the marriage. Finally, they give a conditional consent, saying that their full approval will come only if Beatrix first spends a summer away from Norman—at their beach house. But during that summer, some unthinkable things happen that are certain to change the course of Miss Potter's life forever. Torn between duty, love, the honoring of parents, and the pursuit of a dream, Beatrix must determine whether a woman can, indeed, have it all—or whether one dream must be sacrificed for the pursuit of the others.
Have something to say about this article? Leave your comment via Facebook below!
advertise with us
Example: "Gen 1:1" "John 3" "Moses" "trust"
Advanced Search
Listen to Your Favorite Pastors