Circumstance, Psychology Build Tension in The American
Jeffrey Huston, Crosswalk.com Contributing Writer
Wednesday, September 01, 2010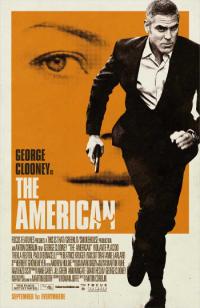 Sitting at a café and walking the daytime street carry their own dangers. Even when casual, Jack never lets his guard down. Well … until he does, and with a woman of course. She is a prostitute, and their initial sexual encounters are inherently guarded. Then emotional attraction grows; she's intrigued by his mystery, he's drawn to her tenderness, and we're worried even before he is. Is she really a femme fatale luring him in, or as genuinely sincere as she seems to be? Regardless, it's ill-fated; either he's too tempted to keep his necessary edge, or too jaded to ever love.
From sex to murder (both graphically portrayed, the sex in particular), Jack is guilty of many sins. But he is a lost soul, not a hardened one. A local priest senses this, even sees it, which leads to intriguing—and even blunt—discussions about the cost of those sins, as well as the need for redemption. But despite the empathetic counsel of the priest (who looks strikingly like the aforementioned Hitchcock), Jack can't perceive a God that would have any interest in him. He likely sees himself as simply too far gone.
George Clooney gives his most internalized, lived-in performance. Gone are the facial ticks and twitches so common to even his best acting turns. Completely immersed into this man's psyche, Clooney carries the weight of his past so heavily that we don't need to know the details to understand him. As an actor, Clooney just keeps getting better and better.
Corbijn's directorial eye is acute, both as a stylist and storyteller. In one respect, he approaches the material as "Week in the Life" of this man, patiently revealing him through the details of what he does and how he responds to the world around him, and we are a fly on the wall observing.
In contrast to the title, Corbijn's visual aesthetic is positively European: bleak yet beautiful, and quiet—which makes sudden jolts of violence all the more real. His few chase scenes also pop, whether they be on foot through back allies or have Jack racing on a Vespa. But it's in the slow, still moments that Corbijn milks the suspense for all its worth; Jack seated alone in an empty, open café like a sitting duck had me anxiously shuffling in my seat.
As in Michael Clayton, The American ends with Clooney on a car ride, left to his thoughts. But instead of reflecting on a victory, here he must contemplate consequences. The conclusion he reaches isn't just sad; it's tragic.

CAUTIONS:
Drugs/Alcohol Content: A couple drinks wine with dinner.
Language/Profanity: Virtually none. One "f" word.
Sexual Content/Nudity: Definitely a strong "R" due to sexual content. Rear female nudity. Two occasions of full-frontal female nudity. Two different scenes of topless women. An extended sex scene; while only shot from the waist up, the sequence is fairly lengthy, erotic, suggests oral sex as woman is aroused, and even a bit rough.
Violence/Other: Several occasions of violence throughout, mostly gunplay/killings. Point-blank murder/killings; some are very sudden, and the surprise adds to the brutality. One man snaps the neck of another to kill him. A woman is shot in the eye; her face is very bloody and damaged while still alive.

Jeffrey Huston is a film director, writer and producer at Steelehouse Productions in Tulsa, Okla. He is also cohost of "Steelehouse Podcast," along with Steelehouse Executive Creative Mark Steele, where each week they discuss God in pop culture.

To listen to the weekly podcast, please visit www.steelehouse.com. You can also subscribe to "Steelehouse Podcast" through iTunes.



Have something to say about this article? Leave your comment via Facebook below!
advertise with us
Example: "Gen 1:1" "John 3" "Moses" "trust"
Advanced Search
Listen to Your Favorite Pastors