Colorful Hop Exceeds Low Expectations
Jeffrey Huston, Crosswalk.com Contributing Writer
Friday, April 01, 2011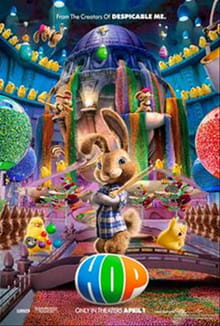 DVD Release Date: March 23, 2012
Theatrical Release Date: April 1, 2011
Rating: PG (for mild rude humor)
Genre: Live-Action/Animated Family, Comedy
Run Time: 90 min.
Director: Tim Hill
Cast: James Marsden, Russell Brand, Hugh Laurie, Hank Azaria, Gary Cole, Elizabeth Perkins, Kaley Cuoco, David Hasselhoff
An Easter Bunny origin story hardly seems like a fresh idea, which makes it odd that we've never actually seen one. Technically we still haven't, because Hop—a purely secular Easter movie—isn't so much an origin story as it is a passing of the torch (or Egg of Destiny, as the case may be) from one bunny to the next. It's no classic, mind you, but as light family fare goes Hop pleasantly (if barely) exceeds low expectations.
In this live-action/animated hybrid, the Easter Bunny gets a Santa Claus makeover (apparently the two mythical icons run the same business model). To Kringle's North Pole, elves, gifts, sleigh and reindeer, the Bunny has Easter Island, chicks, candy, an egg-sleigh and more chicks to match. Each even distributes his goods to children in a one-night round-the-world excursion on the eve prior to their respective holidays.
But as the introduction tells us, this isn't just the story about the new Easter Bunny; it's about how the first human assumed the role—destined by his very name, it would seem: Fred O'Hare (James Marsden, Enchanted). Fred is a joyful but aimless man-child who's still living with his parents as he plods and fails at finding where he fits in life. His family even goes so far as to hold an intervention to tell him he needs to get a job, and a life.
While Fred is disappointing his dad (Gary Cole, Extract), so is the son of the Easter Bunny. After being groomed to take over the family business from his father, young E.B. (yes, he actually goes by those initials) runs away the night before his coronation in pursuit of Hollywood rock-and-roll dreams. The out-of-his-element rabbit crosses paths with the down-on-his-luck slacker, and together they unwittingly help each other toward their destinies even as they mostly want to pull each other's, er, hair out.
As Fred does his best to try and finally live up to his dad's expectations, the free-spirited E.B. (voiced by Russell Brand, Despicable Me) carelessly ruins every one of Fred's opportunities. It's a construct that easily sets up lots of good-natured slapstick, only briefly resorting to some (inspired, I must admit) scatological humor: E.B. literally poops jellybeans.
Meanwhile back on Easter Island, E.B.'s father (voice of Hugh Laurie, TV's House, Street Kings)—burdened by the loss of his heir and the impending Easter Sunday—deploys his all-girl-bunny elite special forces unit The Pink Berets to find E.B. and bring him back. Compounding the elder's troubles, his right-hand chick Carlos (Hank Azaria, TV's The Simpsons, laying on the Spanish accent comically thick) has plans for a hostile takeover.
Have something to say about this article? Leave your comment via Facebook below!
advertise with us
Example: "Gen 1:1" "John 3" "Moses" "trust"
Advanced Search
Listen to Your Favorite Pastors