Conviction Makes Its Case with Feeling
Christian Hamaker, Crosswalk.com Contributing Writer
Friday, October 15, 2010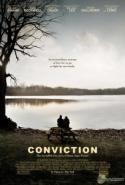 Sam Rockwell has been turning in memorable supporting performances for years in outstanding films such as The Assassination of Jesse James by the Coward Robert Ford and recently in more mainstream fare with this summer's Iron Man 2. His little-seen leading role in last year's Moon left few doubts that he's one of our finest working actors. His portrayal of Kenny, who endures multiple injustices while in prison, is one of the year's best performances, and may finally land him a well deserved Oscar nomination.

Conviction's emphasis on justice reminds us of the psalmist, who asks God, "How long will you judge unjustly, and show partiality to the wicked? Defend the poor and fatherless, do justice to the afflicted and needy. … Free them from the hand of the wicked" (Psalms 82:2-4). In Conviction, Betty Anne Waters is an instrument of justice who sacrifices years of her life and endures the derision of others. Her accomplishment is a triumph of the will and the spirit. Conviction may not make for one of the year's more dazzlingly cinematic films, but its inspirational story is memorable and moving.



Questions? Feedback? Contact the writer at crosswalkchristian@hotmail.com.

CAUTIONS:
Language/Profanity: Very rough language throughout, including several misuses of the Lord's name; more than 30 uses of the "f" words; "a-s"; "s-it"; "whore"; "son of a b-tch."

Smoking/Drinking/Drugs: Betty works at a bar, where several early scenes are set; Kenny drinks and gets violent; smoking at the bar; Kenny requests a limo with a fully stocked bar; a woman drinks wine; a New Year's champagne toast at a bar; Kenny's daughter smokes.

Sex/Nudity: Betty Anne's boss makes a sexually suggestive comment; Kenny does a strip tease at the bar and his bare backside is seen; a husband and wife are shown talking in bed and kissing; a gesture suggests oral sex; Abra jokes that she, Betty, or both will have to sleep with a lawyer to persuade him to take Kenny's case.

Violence/Crime: A dead body is covered in blood, and blood stains the bed, carpet and walls of the victim's home; Kenny attacks a man at a bar; bloody photos and descriptions of an assault victim; children fight each other; testimony against Kenny includes accusations that he tried to throw his girlfriend out of a window and that he bashed in a woman's teeth; as children, Betty Anne and Kenny break into a neighbor's home, and Kenny fights the police who come to investigate the incident; Kenny attempts suicide and is made to promise he won't do that again; Betty Anne impersonates Abra; Betty Anne threatens to kill Kenny if he doesn't follow through with a test that could free him; upon learning of a delay in Kenny's release, Betty Anne throws fragile items at the floor and wall, breaking them; Kenny attacks a prison guard and has to be subdued.

/li>

Religion/Morals: A funeral scene at a Catholic church; upon hearing good news, Betty Anne exclaims, "Thank you, God!"; a police chief is recalled as wanting to pray with a person who is then forced to give false testimony; Barry Sheck is described by a woman as a "Jew lawyer."
Have something to say about this article? Leave your comment via Facebook below!
advertise with us
Example: "Gen 1:1" "John 3" "Moses" "trust"
Advanced Search
Listen to Your Favorite Pastors