Daniel Radcliffe Fades in Black
Christian Hamaker, Crosswalk.com Contributing Writer
Friday, February 03, 2012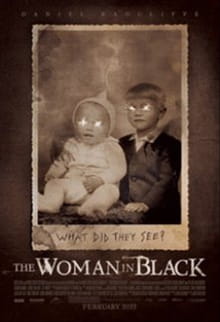 DVD Release Date: May 22, 2012
Theatrical Release Date: February 3, 2012
Rating: PG-13 (for thematic material and violence/disturbing images)
Genre: Horror, Thriller, Drama, Adaptation
Run Time: 95 min.
Director: James Watkins
Actors: Daniel Radcliffe, Ciarán Hinds, Janet McTeer, Roger Allam, Shaun Dooley, Mary Stockley, Sophie Stuckey
For the teenage girls making up the bulk of the audience at a recent preview screening of The Woman in Black, the 95-minute running time flew by, punctuated by their screams at every bump in the night, every ghostly apparition and every moment that lawyer Arthur Kipps (Daniel Radcliffe, Harry Potter and the Deathly Hallows: Part 2) faced danger.
The rest of us spent the movie trying not to look at our watches, and wondered if the shrieking masses had never seen a scary movie before in their lives.
Fans who grew up watching Radcliffe play Harry Potter are now ready to follow the actor to more mature projects. The problem with The Woman in Black, Radcliffe's first big starring vehicle since the conclusion of the Potter series, is that it offers few moments of genuine fright, and it takes far too long to lay out the stakes of its story. Based on a book by Susan Hill and adapted for the screen by Jane Black (X-Men: First Class), The Woman in Black fancies itself an old-fashioned atmospheric fright fest, but something's missing.
The film spends a full hour of its running time establishing the source of danger faced by Kipps, a widower with a son, who must spend several days organizing a deceased person's papers and affairs. The journey takes him to a village populated by people who try to assist—or, in some cases, misdirect—Kipps in his assignment. Several scenes show the villagers giving knowing looks to each other as Kipps looks on, perplexed.
His mission takes him to a remote home accessible only when the tide is out, where he decides to stay overnight despite the concerns of some locals who believe the house is haunted by the spirit of a woman. The woman's ghost is, they believe, tormenting the children of the village over a long-ago dispute with the house's owner.
The film's finale, involving a watery grave and a strange plot to exhume a corpse, is effectively creepy, but it comes too late and is too slight a payoff for a feature-length story. Better that Black should have been adapted for a half-hour TV episode. Instead, the film gives us about 30 minutes of story development, padded with 65 minutes of bumps, jumps and attempted mood setting. It's all a bit of a drag.
The Woman in Black is most interesting in its contrast of religion and superstition, although it comes down on the side opposed to orthodox belief. A villager named Daily (Ciarán Hinds, Tinker, Tailor, Soldier, Spy) is married to a woman (Janet McTeer, Albert Nobbs) who believes her dead son's spirit can inhabit her body. Despite incidents where she acts out and appears to be possessed by the dead son, Daily refuses to accept that there's anything more than an overactive imagination behind his wife's tormented actions. He tells Kipps he doesn't believe in wandering spirits. When we die, "we go up there," he says, as he points to heaven. "We don't stay down here." The comment brings to mind Hebrews 9:27, "Just as man is destined to die once, and after that to face judgment." But rather than validate Scripture, the film posits an afterlife where spirits seek vengeance on those associated with others who wronged them in this life. It forces Daily to relinquish his belief that spiritism is a dangerous practice, populated by charlatans who cater to superstition.
Have something to say about this article? Leave your comment via Facebook below!
advertise with us
Example: "Gen 1:1" "John 3" "Moses" "trust"
Advanced Search
Listen to Your Favorite Pastors