District 9 Disappoints Despite Inspired Genre Mash-Up
Jeffrey Huston, Crosswalk.com Contributing Writer
Friday, August 14, 2009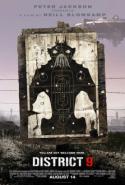 One "Big Brother" chestnut after another is rolled out: evil military-industrial complex, media misinformation, fear-mongering propaganda, blah blah blah. Humans are the dupes, aliens are the victims, and it all unfolds with melodramatic hysteria. It's madness that could be avoided if both sides would just sit down and talk, but of course their joint paranoia keeps them from coming together and understanding each other. Like I said: over-simplifying contemporary issues.
To his credit, director Neill Blomkamp is not heavy-handed with the metaphor; so straight-forward is he that the Terror War analogy will likely be missed by those simply looking for a sci-fi thrill ride. The downside to this tempered thematic touch (combined with the faint moral context) is that it makes for a film with little emotional or intellectual punch.
So in order to create tension and drama, other elements are ramped up—namely the violence. Bodily decay, dismemberment, and actual mutation are warm-ups to bigger and bloodier gore involving alien-on-human violence, the eating of alien limbs in voodoo-like rituals, and the literal blowing-up of bodies. Nice.
In the midst of all this mayhem, newcomer Sharlto Copley does an admirable job in the lead role of the wrongly-accused fugitive. His earnest portrayal creates a dimension that the script does not, elevating what are nothing more than stock man-on-the-run narrative beats. Other characters don't fare as well, unable to do more than serve the function the script requires of them.
Even the most sympathetic alien—a scientist who could save his species if the humans don't destroy them first—is a peculiar oddity. His intelligence and empathy is in direct contrast to the barbaric nature of his fellow aliens … although their barbaric nature is in contrast to the technological advancement of their species. These contradictions are examples of a thrown-together story that reveals more holes as it progresses, even as it tries to involve you with rote emotional staples (like the alien scientist's child who is caught in the crossfire).
I must confess that despite those holes, I wouldn't accuse District 9 of being a lazy film. Blomkamp clearly has a specific vision for the material, his vision is consistently achieved, and he's striving for something more than mindless sci-fi action. He just doesn't fully succeed. That shortcoming is likely the result of one simple fact: this is his first feature. Though it's lacking, Blomkamp displays a level of bravura imagination that bodes promise for films to come.

CAUTIONS:
Drugs/Alcohol: Drinking at a party, smoking. Not pervasive.
Language/Profanity: Profanities are pervasive throughout, especially the "F" word.
Sex/Nudity: None, although there are a couple of brief references to sex acts between humans and aliens.
Violence/Other: Graphic violence and gore seen throughout. Gunplay, military conflict, aliens attacking humans (and vice versa). Dismemberment. Bodies explode in bloody/graphic fashion. Harvested alien bodies. A human body slowly mutates into alien form during the course of the film. Acts of voodoo-like witchcraft are practiced, including the eating of raw alien body parts. Multiple instances of vomiting. Fingernails fall off, teeth fall out. Aliens openly urinating. Aliens use cow carcasses in the process of creating a special liquid.



Jeffrey Huston is a film director, writer and producer at Steelehouse Productions in Tulsa, Okla. He is also cohost of "Steelehouse Podcast," along with Steelehouse Executive Creative Mark Steele, where each week they discuss God in pop culture.

To listen to the weekly podcast, please visit www.steelehouse.com or click here. You can also subscribe to "Steelehouse Podcast" through iTunes.



Have something to say about this article? Leave your comment via Facebook below!
advertise with us
Example: "Gen 1:1" "John 3" "Moses" "trust"
Advanced Search
Listen to Your Favorite Pastors