Edge of Tomorrow Belongs on the Must-See List
Jeffrey Huston, Crosswalk.com Contributing Writer
Thursday, June 05, 2014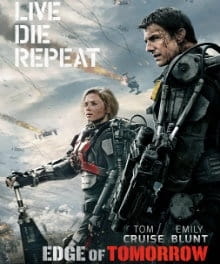 DVD Release Date: October 7, 2014
Theatrical Release Date: June 6, 2014
Rating: PG-13 (for intense sequences of sci-fi action and violence, language, and brief suggestive material)
Genre: Sci-Fi Action
Run Time: 113 minutes
Director: Doug Liman
Cast: Tom Cruise, Emily Blunt, Bill Paxton, Noah Taylor, Brendan Gleeson
With its nebulous title, non-holiday release, and mild promotional push (certainly by summer tentpole standards), the seemingly generic sci-fi actioner Edge of Tomorrow really hasn't been on anybody's must-see radar. So allow me to put it there for you.
Edge of Tomorrow is a visceral and intelligent thrill-ride, rigorously earning the cliché accolade, "If you see only one movie this summer, see this." There hasn't been a better theatrical experience since the start of May, and there won't be a better one through Labor Day (not to mention being an endlessly re-watchable entertainment on multiple home video platforms). It's that fun, it's that cool, and it really is that good – not in spite of Tom Cruise's waning appeal but, rather, because it's a showcase for all the things that made him one of the biggest movie stars of all time.
This high-concept futuristic D-Day, based on Hiroshi Sakurazaka's 2004 novel All You Need Is Kill, is sort of a Starship Troopers-meets-Groundhog Day on the beaches of Normandy. The earth has been attacked by a creepy alien race of creatures dubbed "Mimics," and humankind is in an all-out World War to save our species and reclaim the planet. Major William Cage (Cruise, Oblivion), an Army PR man not trained for combat, is thrust into the war effort's biggest invasion yet – and promptly dies.
Inexplicably, Cage suddenly awakens to a day earlier, discovering he's been thrown into a time loop that brings him back to the same starting point each time he's killed (something the movie is clever enough to play for laughs as much as it does suspense). What unfolds isn't the existential identity crisis of the aforementioned Bill Murray comedy classic; this is a high-octane mission with a mystery at the core that's both tactical and metaphysical, driven by a dramatic arc for Cage as he goes from entitled coward to courageous hero.
Cage's primary focus is to figure out how to save and assist the war's actual hero Rita Vrataski (Emily Blunt, in another screen-commanding turn following Looper). Rita is, quite literally, the poster child of the war effort, an eco-skeleton clad cybertronic super soldier that is unrivalled on the battlefield. She's even gained her own mythic title, "The Angel of Verdun." Cage must help Rita locate the source of the aliens' power and destroy it.
The movie's promotional tag line "Live. Die. Repeat" does a good job of pitching the basic premise, but then it also belies the film's true complex nature. This is not a redundant narrative or static experience. On the exhilarating contrary, Edge Of Tomorrow is alive with invention. For a story about reliving the same day over and over, perhaps the film's biggest surprise is how full of surprises it is.
Instead of repeating the same exact moments with slightly different outcomes, the narrative is much broader in its trajectory. Learning how to survive doesn't simply improve Cage's chances in each repeated moment, but it leads to new ones (sort of like advancing through a video game, but without feeling like a formulaic structure). Instead of having to plod through the do-overs, director Doug Liman knows when we've seen the repeats enough and, instead, jumps to the next new moment where we can pick up and move forward.
Have something to say about this article? Leave your comment via Facebook below!
advertise with us
Example: "Gen 1:1" "John 3" "Moses" "trust"
Advanced Search
Listen to Your Favorite Pastors