A Brainy Stallone Aids Escape Plan
Susan Ellingburg, Crosswalk.com Contributing Writer
Friday, October 18, 2013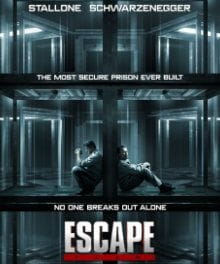 As one would expect from a story set in a prison—especially with these co-stars—Escape Plan is a violent film. There are no laws governing the "off the grid" facility Breslin and Rottmayer are held in; "cruel and unusual" doesn't begin to describe their punishment. Beatings, torture (including waterboarding and trial by heat lamp), verbal and physical abuse, not to mention the psychological torment carried out by the sadistic warden, are all par for the course. It's not one for the kiddos, but adults who like their films of the shoot'em-up variety, who fondly remember the heydays of its stars, and who aren't put off by the R rating will enjoy Escape Plan.
CAUTIONS:
Drugs/Alcohol: Men stabbed in the neck with a hypodermic needle containing some kind of drug; man said to have inhaled clotting powder. Man shown drinking alcohol.
Language/Profanity: I lost count of the f-bombs after number twenty-five. Sh** said a couple of times, a** (sometimes combined with 'hole') a few more times; S.O.B., a man's mother referred to as a who** in a prison fight, and a man extends his finger for a photo (to comic effect). One character draws a cartoon of a horse's backside with an arrow pointing to it.
Sex/Nudity: An offhand invitation to discuss something "over breakfast," which may have intimated spending the night together, but it's quick and subtle and almost not worth mentioning.
Violent/Frightening/Intense: Considerable fighting; this is, after all, an action film starring Stallone and Schwarzenegger. Much of the violence is intense: shootings, stabbings, multiple deaths, beatings, torture (including waterboarding and other creative punishments), verbal, physical, and psychological abuse, close up views of wounds, blood spurting, and so on, but the sound of bones crunching was the worst. Many people die. In a brief scene a man is beaten to death and thrown off an aircraft.
Spiritual Issues: Breslin is shown with a Bible but it's a prop; he tears a page out and burns it in order to make ash for wall art and later drops it on the floor. As part of the prisoners' plan, a Muslim character takes a stand for his religion in order to gain access to open air, crying out "I want to be seen by my god."
Publication date: October 18, 2013
Have something to say about this article? Leave your comment via Facebook below!
advertise with us
Example: "Gen 1:1" "John 3" "Moses" "trust"
Advanced Search
Listen to Your Favorite Pastors