Faithful Christian Witness Not Part of Whatever Works
Christian Hamaker, Crosswalk.com Contributing Writer
Friday, June 26, 2009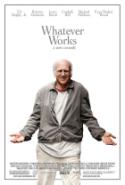 It's an appalling message and an obvious lie. Allen wrote the original draft of Whatever Works in the 1970s, around the time of Annie Hall, which won the 1977 Oscar for Best Picture. That film, for many Allen aficionados, represents the apex of the filmmaker's comedic efforts, long before Allen's relationship with Mia Farrow unraveled and his tumultuous public life became tabloid fodder. Annie Hall was soon followed by Manhattan, which stars Allen as a man smitten with a much younger woman. Whatever Works, from that same era, further confirms Allen's fondness for May-December romances.
But enough with the psycho-analysis. It's enough to say that those who disapprove of Allen's off-camera life will disapprove of the on-camera musings and behavior of Boris. Even those who laugh during the film's first half will discover that Whatever Works leaves a bad aftertaste. Unlike Allen's Match Point or Cassandra's Dream—serious dramas that explored life-and-death consequences of moral failing—Whatever Works takes a "que sera, sera" attitude to life and love, with a happy ending that feels entirely false but which is designed to leave viewers with a smile on their faces as they leave the theater.
Feel free to scowl instead. A comedy that delivers actual laughs—and which allows the audience to laugh at its main character—has, by its conclusion, turned into a postmodern screed against anyone who would dare to question another person's moral decisions. Allen may think that works for him, but for others, it won't work at all.

Questions? Comments? Contact the writer at crosswalkchristian@verizon.net.
CAUTIONS:
Smoking/Drinking/Drugs: Some drinking; a character asks for a drink "with the most alcohol in it"; drugs are smoked; a romance between two men begins over drinks at a bar.
Language/Profanity: Lord's name taken in vain; inflammatory comments about race; some foul language and terms like "cracker"; discussion about prostitutes; a marquee displays the name of band called Anal Sphincter; joke about how concentration camps show true human nature.
Violence/Suicide: A man leaps out of an apartment window but survives; he threatens to throw a woman out the window; a second unsuccessful suicide attempt.
Sex/Nudity: Discussion of a spouse's infidelity; a woman discusses love-making, and a man responds, "That's the most disgusting story I've ever heard!"; a man comments favorably on a woman's breasts and behind; Boris says he's praying that a man has herpes; kissing; a woman and two men are shown sleeping alongside each other in bed; a photo exhibit includes several nude images; a man grabs a woman's backside.
Marriage/Divorce: A woman says her husband left her to pursue a relationship with another woman; she then tries to set up her married daughter with another man; the man returns, confesses his sin and begs forgiveness, but later reveals that he's had homosexual tendencies all along; he enters into a gay relationship with a man he meets at a bar; Marietta moves in with two men and enters into a ménage-a-trois.
Religion: The universe is described as completely random, with human pairings being the result of the most random of chance occurrences; a woman raised by a Bible-believing mother explains that she was raised to believe that "the good Lord has a plan" and that "His eye is on the sparrow," to which Boris responds, "I pity the sparrow"; a woman says she lost her virginity before marriage and therefore isn't going to heaven; prayer is mocked as a "Christian superstition"; a Christian woman suspects secular humanists may be behind her daughter's departure from her childhood faith; a woman's declaration that abortion is murder is greeted with derision; a woman claims to be a psychic.


Have something to say about this article? Leave your comment via Facebook below!
advertise with us
Example: "Gen 1:1" "John 3" "Moses" "trust"
Advanced Search
Listen to Your Favorite Pastors