Family-Friendly Secretariat a Safe Yet Ineffectual Film
Jeffrey Huston, Crosswalk.com Contributing Writer
Friday, October 08, 2010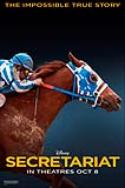 On the flip side, the owner of Secretariat's biggest challenger is an openly, unrepentant misogynist pig. It's not enough to want Secretariat to win; apparently we must actively hate the competition, too. The film's broad over-simplifications undercut any sense of realism or dimension.

As handsomely mounted as it all is, the overall tone director Randall Wallace (screenwriter for Braveheart) takes is just too soft. We are constantly told the stakes but we never feel them. No matter how dire the circumstance, we know that a little faith will make everything okay.

The staging of actual races also lacks imagination, especially during the second-leg of the Triple Crown, The Preakness. That we see it entirely on a TV set in a living room may give us that moment of family support, but it's also dramatically flat. For a film that's supposed to inspire, the direction does anything but.

History itself is seen through rose-colored glasses, the most obvious example being the sanitized depiction of hippies (of which Penny's eldest daughter is, with her mother's support). Nothing offensive is endorsed or depicted; your average church youth group is more rebellious than what's seen here. They're simply well-intentioned youth with a social conscience.

To temper any concern from the faith community, other elements seem intentionally added for believers: an introductory citation from Job, the use of Christian spirituals, and the combination of both at the climactic moment. I'd say evangelicals were being pandered to if the use of each weren't so sincerely rendered.

Wallace also resorts to easy gags and standard feel-good moments. Horse intentionally pees on foot of annoying reporter? Check. Cast grooves to 1960s soul song in a montage? The Staple Singers' classic "I'll Take You There" has it covered.

Secretariat is not a bad film, which is about the highest praise one can muster for a film so methodically rote. For a story about a Rebel Owner, Rebel Trainer, and Rebel Jockey turning an underdog horse into the Greatest of All Time, this is safe to a fault. The air of inevitability permeates every scene and saps the tension out of every conflict. But can you take the kids to it? Sure. If they're able to slog through the family drama, they'll probably enjoy the horse.

CAUTIONS:
Drugs/Alcohol Content: Drinks at social events, but very benign and no drunkenness.
Language/Profanity: One use of the word "hell."
Sexual Content/Nudity: None.
Violence/Other: Intense/dramatic racing sequences, but no actual violence.

Jeffrey Huston is a film director, writer and producer at Steelehouse Productions in Tulsa, Okla. He is also cohost of "Steelehouse Podcast," along with Steelehouse Executive Creative Mark Steele, where each week they discuss God in pop culture.

To listen to the weekly podcast, please visit www.steelehouse.com. You can also subscribe to "Steelehouse Podcast" through iTunes.



Have something to say about this article? Leave your comment via Facebook below!
advertise with us
Example: "Gen 1:1" "John 3" "Moses" "trust"
Advanced Search
Listen to Your Favorite Pastors