Sixth Time Has Charm in Fast & Furious Series
Susan Ellingburg, Crosswalk.com Contributing Writer
Friday, May 24, 2013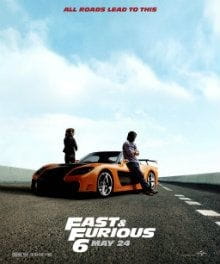 DVD Release Date: December 10, 2013
Theatrical Release Date: May 24, 2013
Rating: PG-13 for intense sequences of violence and action and mayhem throughout, some sexuality and language
Genre: Action, Crime, Thriller
Run Time: 130 minutes
Director: Justin Lin
Cast: Vin Diesel, Paul Walker, Dwayne Johnson
There's no place like home. Like Dorothy in the Emerald City, the lovable, fast-driving crew of Fast & Furious past enjoy untold wealth and all the comforts of home... but they can't go home, since unlike Dorothy, they're all wanted criminals. That could be about to change.
Lawman Hobbs (Dwayne Johnson, Snitch) has a sultry new partner (Gina Carano, Haywire) and a new set of hard-driving bad guys to chase. "We're talkin' vehicular warfare" here, and since these villains appear to have world domination on their minds it's not just the streets that aren't safe with these mercenary drivers behind the wheel. So Hobbs offers Dom (Vin Diesel, Babylon A.D.) a deal: help him put these baddies away and Dom's crew can go home again with pardons in their hands.
To seal the deal Hobbs brings proof that Dom's former love, Letty, presumed dead in a car crash, is actually alive and in cahoots with the bad guys (if you watched the credits for Fast Five that information was not a spoiler. If you didn't stick around for the credits, you should have. Ditto this installment). Naturally, the crew rallies around Dom to rescue Letty since "You got a problem, we deal with it together." They're a super-supportive bunch, which is nice to see in this day and age. Of course, they also jump at the chance to do what they do best. For a group whose motto is "ride or die," what they do is pretty sweet. The only thing better is the prospect of going home to the good ol' U.S.A., which makes the holiday weekend opening nicely appropriate.
For those who like to celebrate summer with a good action film, Fast &Furious 6 is the place to start. There's an excellent balance of humor, tension, and heart-tugging moments and the action is all but non-stop. There are even some nice (and some not-so-nice) plot twists that I wouldn't dream of spoiling. Along with driving battles there is a significant amount of fighting—the hand-to-hand combat kind—including an extended brutal battle between two women.
Many of the driving scenes are set in London, with its narrow streets and abundance of pedestrians making it one of the worst places in the world to attempt a street race (extra degree of difficulty points, perhaps?). While automotive carnage is extensive, human casualties are often glossed over.
Several scenes go a good while without dialogue, the better to listen to engines rev and witness violent clutch-stomping and gear-shifting (this was quite effective in the beginning but rather less so as similar sequences were played and replayed). When characters do talk, they're alternately funny, determined, or touching, and sometimes all three at once.
As per usual, Johnson does not disappoint. Diesel is perfectly suited to the streetwise Dom, Paul Walker (Eight Below) radiates boy-next-door charm (and mercy, those eyes) as new father Brian, Sung Kang and Gal Gadot are adorable as the love-struck Han and Gisele. Tyrese Gibson (Transformers) and Ludacris (No Strings Attached) had excellent comic timing. Really, the only weak spot in the ensemble was Michelle Rodriguez (Avatar); she scowls in a variety of ways, but a different expression or two would have made a nice change.
Have something to say about this article? Leave your comment via Facebook below!
advertise with us
Example: "Gen 1:1" "John 3" "Moses" "trust"
Advanced Search
Listen to Your Favorite Pastors