Fruitvale Station Rises Above Racial Grievance
Christian Hamaker, Crosswalk.com Contributing Writer
Friday, July 19, 2013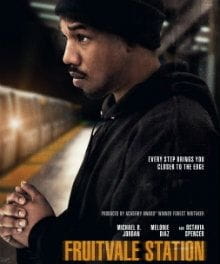 DVD Release Date: January 14, 2014
Theatrical Release Date: July 12, 2013 (limited)
Rating: R for some violence, language throughout and some drug use
Genre: Drama
Run Time: 90 min.
Director: Ryan Coogler
Cast: Michael B. Jordan, Melonie Diaz, Octavia Spencer, Ariana Neal, Ahna O'Reilly
By now, most people have heard the verdict from a Florida trial in which a man, George Zimmerman, was acquitted of second-degree murder in the shooting of a young black man, Trayvon Martin. A day before the verdict was announced, Ryan Coogler's Fruitvale Station opened in limited release. The film tells the story of a BART police officer who shoots a young black man in Oakland during a heated confrontation.
The movie, based on a 2009 incident bearing strong similarities to the Martin shooting, seems designed to capitalize on the timing of the Zimmerman verdict. But while passions about the film have been higher because of the trial's outcome, Fruitvale Station is not about stoking racial grievances. It rises above the political and legal fray thanks to a multidimensional portrait of its protagonist and a noble depiction of Christian conviction amid trying circumstances.
That conviction doesn't belong to Oscar B. Grant (Michael B. Jordan, Chronicle) or his girlfriend, Sophina (Melonie Diaz, Be Kind Rewind), or even, as far as we can tell, their four-year-old daughter, Tatiana (Ariana Neal). It belongs to Oscar's mother, Wanda (Octavia Spencer, The Help), who prays aloud more than once during the film, and who lets her troubled son know she's interceding for him. That her prayers for her son's safety and protection ultimately aren't answered as she would have hoped takes nothing away from the potency of Spencer's character and performance.
After beginning with video footage of the confrontation that culminated in Oscar's shooting, Fruitvale Station jumps backward to show us Oscar's life during its final 24 hours. Oscar is determined—in the light of a new year—to do right by those in his life who need him. He's going to be faithful to Sophina, who needs reassurance that Oscar's admitted "one-time" affair with another woman is not ongoing. He's staying quiet about his lack of employment because he's hoping to convince the manager at a grocery store to rehire him. And he wants to contribute to his mother's birthday celebration.
However, Oscar hasn't put the past fully behind him. We learn through flashbacks that Oscar once was incarcerated, and that he has a violent temper he hasn't been able to shake. He goes from mild to wild in a heartbeat, venting his rage against a fellow inmate, and even turning on Wanda while she's visiting him in prison. "I'm praying for you," Wanda tells Oscar as she turns and walks away from him, causing him to fly into another rage and be detained by prison guards. We'll hear Wanda follow through on her promise later in the film, as she lifts up her son before the Lord.
Back in the present, Oscar lays on the charm with his ex-boss at the supermarket... until the manager makes it clear that he's replaced Oscar with someone more reliable. Oscar turns hostile and threatening in an instant. "You want me selling dope?" he asks the man. "You want me waitin' outside for you?"
Have something to say about this article? Leave your comment via Facebook below!
advertise with us
Example: "Gen 1:1" "John 3" "Moses" "trust"
Advanced Search
Listen to Your Favorite Pastors