Fun "Fever Pitch" Brings Together Men, Women and Sports
Annabelle Robertson, Entertainment Critic
Thursday, April 07, 2005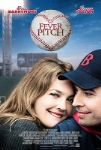 Release Date: April 8, 2005
Rating: PG-13 (for crude and sexual humor, and some sensuality)
Genre: Comedy/Romance
Run Time: 101 min.
Director: Bobby & Peter Farrelly
Actors: Drew Barrymore, Jimmy Fallon, Lenny Clarke, Jack Kehler, James B. Sikking
Oh, the connection between men and sports. Is there anything more simple – or more complicated? And why, oh why do we put up with it?
Ever since Ben ("Saturday Night Live" alum Jimmy Fallon) was a kid, he's watched the Red Sox play, sitting beside his only male role model – his beloved uncle Carl. Overall, Ben is a really nice guy. Infatuated with corporate superstar Lindsay (Drew Barrymore), he spends their first date nursing her back to health and cleaning her bathroom, after she comes down with a nasty case of stomach flu. He's so thoughtful, he even brushes her dog's teeth. For the work-obsessed Lindsay, this definitely makes up for the fact that Ben's "just" a school teacher. She's tired of dating corporate yuppies, anyway.
It's still winter, however, which means that Lindsay hasn't discovered the truth about Ben. Ben's not just your average baseball fan. He's "one of God's most pathetic preachers – a Red Sox fan." Meaning, he is completely and totally obsessed with that team, largely thanks to the dugout season tickets his uncle willed him. Lindsay's married friends warn her. "There's a reason he's still single," they insist, to which Lindsay replies, "Maybe he just hasn't found the right person." "Well," one quips, "by now he should be with the wrong person." Cut to Ben's apartment, a living homage of Red Sox sheets, pillows, blankets, towels, shower curtain and memorabilia that covers every square inch of wall – except one, painted green and intended to evoke "The Green Monster," the back wall of Fenway Park. Ben's wardrobe also consists largely of Red Sox logo wear. His toilet paper, however, bears the New York Yankees logo.
Lindsay tries to be game about the game, joining Ben in his coveted seats – to the dismay of his friends, who have become completely subservient in their annual quest for tickets. But soon, Lindsay's job is suffering, and she is starting to see that Ben's entire life revolves around the games. After all, he hasn't missed a Red Sox game in 23 years, so after missing dates, once-in-a-lifetime trips and even family outings with Lindsay, things start to get tense. Oh, and did I mention? It's the Spring of 2004. In Boston. And if you have no idea what I'm talking about, then you need to see this movie – with your boyfriend or husband. Trust me. He will be thrilled to tell you all about the Curse of the Bambino and how it was broken, in great detail. Try and look interested.
Loosely based on the novel by Nick Hornby ("About a Boy") and directed by the Farrelly brothers ("Dumb and Dumber," "There's Something About Mary"), "Fever Pitch" is that rare romantic comedy which men will enjoy as well as women. It's not particularly memorable – unless you are a Red Sox fan, which may just be enough for good box office numbers – but it works, for the most part. The best thing about the film is that it reveals the fanatical role sports can play in a man's (and sometimes a woman's) life, and how a healthy pastime, when taken to extremes, can destroy intimacy and wreak havoc with our relationships.
Have something to say about this article? Leave your comment via Facebook below!
advertise with us
Example: "Gen 1:1" "John 3" "Moses" "trust"
Advanced Search
Listen to Your Favorite Pastors