Fun "Fever Pitch" Brings Together Men, Women and Sports
Annabelle Robertson, Entertainment Critic
Thursday, April 07, 2005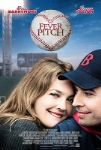 Toward the end of the film, Ben confides in an adolescent boy and asks his advice. In yet another one of the adult/child role reversals so typical of film and television these days, the child – not the adult – is the one with the answers to life's deepest questions. "You love the Sox," he says sagely. "But do they love you back?" The answer, of course, is no, which leads to Ben's real dilemma: does he give up the superficial intimacy and community of the baseball stadium for true depth of relationship with the woman of his dreams? It's an excellent portrayal of idolatry and its dangers, presented in a clear but entertaining way.
The dialogue in this film is well written and gently funny throughout. "I eat off of everyone's plates," says Lindsay. "My friends call me the seagull." Barrymore gives her usual girl-next-door delivery, while Fallon plays the lovable loser that refuses to grow up. Both roles are fairly clichéd and, disappointingly, neither actor adds any edge or depth. Too bad we don't cast more serious actors in these romantic comedy roles; we might actually get something new. Then again, at least we don't have to suffer another film with Ben Stiller.
It's clear that Ben and Lindsay are involved in a sexual relationship (although there is no nudity), and the couple talks about her possible pregnancy – without any negative repercussions. There is also a significant amount of sexual innuendo, which makes this film appropriate only for adults. This is also made clear by the film's PG-13 rating which, parents should note, is the new Rated R.
With these exceptions, "Fever Pitch" will be appreciated by both sexes for the way that it explores the complex relationship between men, women and sports, and without delving into the usual lies and "misunderstandings" which form the foundation of most romantic comedies. It's also got some great scenes from Red Sox games and chronicles last year's historic World Series Championship.
Overall, a fun and entertaining film with a redeeming message.
AUDIENCE: Adults only
OBJECTIONABLE CONTENT:
Drugs/Alcohol Content: Man smokes cigar; adolescent asks for a vodka martini; several scenes where characters drink beer; several scenes in bar.
Language/Profanity: About a dozen obscenities and another dozen mild profanities ("Oh my God").
Sexual Content/Nudity: Adolescent calls woman a "major hottie;" women in workout gear show jiggling cleavage at gym; man undresses sick woman and puts her into pajamas (no nudity); casual reference to pornography; husband jokes about offering his wife's sexual favors in exchange for baseball tickets, then says he is serious; man says that the "top six best things" about a woman are all related to her anatomy; Man says, "This is getting me hot" as woman wears baseball jacket of his favorite team; unmarried man says that the most important things in life are "baseball, sex and breathing – in that order;" unmarried couple embrace passionately (no nudity) in preparation for sex; woman talks about "you and me going at it all night;" woman tells man she is fearful of being pregnant because she is "late;" character comments, "The sex is great;" man makes toast to his wife on her birthday and comments about "dancing in her panties" (but is rebuked); couple analyzes their recent sexual encounter together, while naked in bed (no nudity); unmarried couple share passionate kiss; man passionately kisses another man's wife.
Violence: Teacher threatens students with crowbar in joking manner; teaching bops kid on head; woman is accidentally hit by stray baseball during game, but not seriously injured; various scenes with physical humor.
Have something to say about this article? Leave your comment via Facebook below!
advertise with us
Example: "Gen 1:1" "John 3" "Moses" "trust"
Advanced Search
Listen to Your Favorite Pastors