Funny, Insightful Ghost Town Worth a Visit
Christa Banister, Crosswalk.com Contributing Writer
Friday, September 19, 2008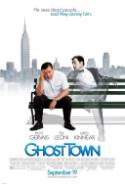 DVD Release Date: December 28, 2008
Theatrical Release Date: September 19, 2008
Rating: PG-13 (some strong language, sexual humor and drug references)
Genre: Comedy/Romance/Fantasy
Run Time: 102 min.
Director: David Koepp
Actors: Ricky Gervais, Greg Kinnear, Téa Leoni, Jordan Carlos, Brian Hutchison, Claire Lautier, Aasif Mandvi, Bridget Moloney, Raymond J. Lee, Kristen Wiig
Best known as the irreverent, bumbling boss David Brent on the original BBC version of The Office, Ricky Gervais isn't the most likely choice for a leading man.
But with a script that's tailor-made for his snarkiness and a star turn as a humanity-loathing dentist who happens to see dead people (more on that in a minute), he's every bit as charming and endearing as George Clooney or Brad Pitt—even if he doesn't exactly have that same swoon-worthy sex appeal.
Much like Jack Nicholson's Melvin Udall in 1997's As Good As It Gets, Gervais' Bertram Pincus D.D.S. has created his own comfortable existence that doesn't involve much interaction with his fellow humans. The only reason he actually tolerates his dental day job is because he can conveniently shove something into his patients' mouths when they talk too much. When one particular client goes on and on about her young son's recent accomplishments, he promptly interrupts her cheery banter with a mouth full of cement for an impression of her teeth and replies, "You're resting your jaw. I'm resting my ears. We're all winners."
And when Dr. Pincus isn't dodging out of the office party in commemoration of a co-worker's new baby or letting the elevator door close just seconds before his neighbors have a chance to get on with the heavy packages they're carrying, he's hanging out in his dreary Manhattan apartment accompanied only by his pajamas, a few sharpened pencils and Will Shortz' latest crossword puzzle.
Instead of briskly moving into the redemptive second act, the filmmakers do an outstanding job of juxtaposing Dr. Pincus' dreary existence with shots that beautifully capture the beauty and hustle-bustle of New York City life. Rather than settling for the all-too-familiar images of the skyline and the requisite shots of Times Square, the camera lingers the way it would in an Indie (or a Woody Allen) film, capturing the city in an artful way that ultimately makes Ghost Town a true joy to watch.
As expected, though, the protagonist's rather insulated existence doesn't end up staying that way for long. After a routine colonoscopy (that he demanded full anesthesia for) goes seriously awry, the nurse finally tells him after a couple of failed attempts, "You died. A little bit." And after leaving the planet for somewhere in the neighborhood of seven minutes, something strange has happened to Dr. Pincus: He now sees the ghosts of dead people with unfinished business here on Earth.
Segueing into a story that borrows liberally from Ghost, It's a Wonderful Life and Cary Grant's turn as a ghost who meddles in the life of a particularly stuffy friend in 1937's Topper, Dr. Pinkus isn't exactly thrilled with his newfound "gift." In fact, it downright annoys him, and he does anything he can think of to escape them. Being the extremely mobile, persistent variety of ghosts, however, he simply can't get away.
Sensing an opportunity to get his endgame accomplished, one ghost in particular named Frank (Greg Kinnear), a sleazy fellow West Sider who was cheating on his wife when he died, offers to strike a deal. If Dr. Pinkus successfully breaks up his ex-wife's engagement to the do-gooder lawyer Frank has "suspicions" about, he'll make sure the other ghosts never bother him again. And while Frank never exactly explains how he has control over how the other ghosts behave, Dr. Pinkus takes him at his word and begrudgingly accepts his offer.
Have something to say about this article? Leave your comment via Facebook below!
advertise with us
Example: "Gen 1:1" "John 3" "Moses" "trust"
Advanced Search
Listen to Your Favorite Pastors