Good Lessons Learned in Nanny McPhee Returns
Richard Abanes, Crosswalk.com Contributing Writer
Friday, August 20, 2010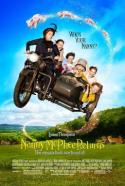 DVD Release Date: December 14, 2010
Theatrical Release Date: August 20, 2010
Rating: PG (for rude humor, some language and mild thematic elements)
Genre: Comedy, Family, Fantasy, Sequel
Run Time: 109 min.
Director: Susanna White
Actors: Emma Thompson, Maggie Gyllenhaal, Rhys Ifans, Maggie Smith, Ralph Fiennes
There are certain films that just make you feel good. Such a film is Nanny McPhee Returns (screenplay by Emma Thompson). The movie is a pure delight from beginning to end. It's packed with uplifting wit, nice plot twists, and a thought-provoking storyline that's bound to bring out the best in both adults and kids. It wouldn't be an overstatement to say it borders on inspiring. As one youngster said as he was leaving the theater, "That made my day."
The movie, set in WWII England, offers a stellar cast that includes: Maggie Gyllenhaal (Secretary, Crazy Heart) as a harried mother of three rambunctious children; Maggie Smith (The Missionary, Gosford Park) as an elderly and slightly kooky shop owner; Rhys Ifans (Notting Hill, The Shipping News) as a lovable and comical villain; and Emma Thompson (Howard's End, The Remains of the Day, Sense & Sensibility) as Nanny McPhee. Adding even more clout to this cast is Ralph Fiennes (Schindler's List, The English Patient), who is arguably one of Hollywood's finest actors. It's an A-List cast—and it shows. Each actor contributes to make the fantasy of it all very believable.
The story opens at a farmhouse in the country, amid the boisterous horseplay of Norman, Megsie, and Vincent—the children of Mrs. Green (Gyllenhaal), a woman falling to pieces as she tries valiantly to save her farm from being sold out from under her. At first the children seem like just another stereotypical trio of out-of-control brats. But we quickly learn that there is far more to each of them as they reveal their feelings for their father, who has gone off to war, and not written home in three months. Everyone fears the worst, but they are trying their best to keep a stiff upper lip.
Into this already tense situation come two more children, cousins Cyril and Celia, who are unceremoniously dumped off at the farm by their chauffeur. They are from the city: wealthy, sophisticated, refined, cultured, and decidedly snobbish. They arrive at the dilapidated farmhouse, which is literally surrounded by a loathsome mixture of mud and livestock excrement. It's ghastly to little Cyril and Celia, both of whom are dressed in fine apparel. The tone is set when Cyril mocks his cousins upon first meeting them: "Greetings covered-in-poo people. Do you speak English?" That's enough to get things moving in the wrong direction for the five children who, within the span of a day, are at each other's throats.
Later that night, at the height of an all out war that has erupted under poor Mrs. Green's roof, Nanny McPhee arrives from out of nowhere. She is, without question, a shockingly ugly—complete with hairy warts, a bulbous nose, a frighteningly thick uni-brown, and a predominant snaggletooth that is always visible. Despite her odd appearance and unannounced arrival, McPhee is allowed into the home, where she begins to work her fairy-tale magic instantly on the children. Within moments they are persuaded to stop fighting and go to bed. This is the first of five lessons she eventually teaches them. And beautiful lessons, they are: 1) stop fighting; 2) share nicely; 3) help each other; 4) be brave; and 5) have faith. (I'd like to call in Nanny McPhee on some adults I know.)
Have something to say about this article? Leave your comment via Facebook below!
advertise with us
Example: "Gen 1:1" "John 3" "Moses" "trust"
Advanced Search
Listen to Your Favorite Pastors