Hairspray Holds Up As a Solid Movie Musical
Stephen McGarvey, Executive Editor
Friday, July 20, 2007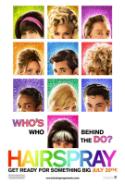 The pacing sags about two-thirds of the way through when the film slows a bit to moralize about the evils of segregation. It's a switch from the earlier approach to making the film's racists look like ignorant fools by making fun of them, and it leaves you feeling like we had our fun, and now is our serious "learning time." Also during several of the songs it seems like the sound dubbing was off in spots. Fans of the Broadway version will note some major plot changes, especially in the ending.
Despite these minor flaws, Hairspray's music is fun and infectious mimicking the familiar doo-wop sound of 1960s rock and roll. Its dancing and choreography energize and make you forget how very silly it is for characters to simply burst into song during the pivotal moments of their lives. In contrast to the musical numbers of last year's Dreamgirls, the music here tells more of the story instead of bogging it down. Director Adam Shankman has managed to put together the most engaging on-screen musical since 2002's Oscar-winning Chicago. And in some ways, Hairspray surpasses Chicago with its vastly more redeeming message.
CAUTIONS:
Worldview: Racial segregation and interracial dating are big themes of this film, but these issues are mostly addressed in a lighthearted way. Penny's devout Christian mother is portrayed as an old fuddy-duddy who won't let her have any fun.
Drugs/Alcohol: A small amount of drinking and smoking, most of it in the background.
Language/Profanity: A handful of minor profanities.
Sexual Content: Early song references a "flasher" who we see briefly startling a group of ladies standing on a street corner. Some of the teens on The Corny Collins Show, it is revealed, have stuffed padding in their bras and shorts. One of the show's teen dancers is forced to leave because she is pregnant. During one song, Velma admits that in her youth, she had sex with the judges of a beauty pageant to win. Velma tries to seduce Wilbur to no avail. The scene is more comic than anything else since Wilbur is at first clueless about her advances, but also completely devoted to Edna. The film contains quite a few subtle sexual double entendres. Most of these will fly completely over the heads of children, but adults will pick up on them. A few dance moves are sexually suggestive, and there are several close-ups on the "bum-shaking."
Violence: Tracy bops a policeman with a sign during a protest, then runs to avoid arrest.
Have something to say about this article? Leave your comment via Facebook below!
advertise with us
Example: "Gen 1:1" "John 3" "Moses" "trust"
Advanced Search
Listen to Your Favorite Pastors