He's Just Not That into You Is Engaging Yet Disturbing
Christa Banister, Crosswalk.com Contributing Writer
Friday, February 06, 2009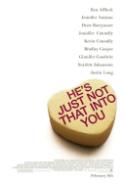 DVD Release Date: June 2, 2009
Theatrical Release Date: February 6, 2009
Rating: PG-13 (for sexual content and brief strong language)
Genre: Romantic Comedy
Run Time: 129 min.
Director: Ken Kwapis
Actors: Ginnifer Goodwin, Kevin Connolly, Scarlett Johansson, Bradley Cooper, Justin Long, Ben Affleck, Jennifer Aniston, Drew Barrymore, Jennifer Connelly, Busy Philipps
Inspired by a catchphrase from an episode of Sex and the City that later evolved into a blunt, best-selling primer for the lovelorn stamped with the much-coveted endorsement of Oprah, He's Just Not That into You is now getting the big-screen treatment.
And really, the timing couldn't be better with Valentine's Day's arrival only a week later. In theory, if someone unhappily single successfully mastered all of the movie's so-called relationship principles, well, he/she still may have enough time to score a date for the candy-coated, card-giving festivities.
Boasting an all-star cast, the criss-crossing storylines roughly follows the same format of 2003's Love Actually. While that structure definitely helps alleviate boredom because it forces the audience to keep up, there is still considerable excess in the flick's two-hour running time—especially considering the source material was a relatively short self-help book. In fact, some of the lesser-developed scenarios could've been eliminated completely, and the film probably would've been the better for it.
Despite the liberties the filmmakers take time-wise, however, He's Just Not That into You still serves as an insightful yet equally disturbing barometer of our culture's perspective on relationships.
First off, we're introduced to Gigi (a standout Ginnifer Goodwin), who the bulk of the story is dedicated to. After going on what she believes is a pretty successful first date with Conor (Kevin Connolly from TV's Entourage), she starts obsessing BIG TIME (mostly at the office where she apparently has infinite free time to do so) when he doesn't call her back. Deciding that maybe he lost her number, got hit by a cab or simply was out of town, Gigi stages a "chance encounter" by heading to his favorite after-work hangout, a nearby bar managed by Alex (Justin Long, of "I'm a Mac" commercial fame). As Gigi patiently waits at the bar, Alex strikes up a conversation and discovers the guy she's waiting for just happens to be his roommate. Knowing Conor's dating habits all too well, Alex immediately informs her that a second date isn't exactly in the cards. Alex says that if a guy hasn't called within a couple of days, it's because he "has no interest in seeing you again."
Despite his particularly forthright delivery that doesn't spare her feelings, Gigi appreciates Conor's honesty, and they eventually forge a friendship. And when other dating dilemmas inevitably arise, Gigi calls Alex and eventually learns that men aren't quite as mysterious as she once believed.
Meanwhile, Gigi's brother-in-law, Ben (Bradley Cooper), has a chance encounter of the truly unplanned variety when he meets a yoga instructor/wannabe singer (Scarlett Johansson) in the local grocery store's checkout line. Taken by her beauty and flirtatious manner, he suddenly remembers (gasp!) he's married when she casually asks for his number. But a little rationalization goes a long way, so Ben decides they can "talk business" sometime if she called him at work. After all, he just happens to have contacts that might be helpful for her singing career.
Have something to say about this article? Leave your comment via Facebook below!
advertise with us
Example: "Gen 1:1" "John 3" "Moses" "trust"
Advanced Search
Listen to Your Favorite Pastors