High School, Debate Team … It's All Rocket Science
Annabelle Robertson, Crosswalk.com Contributing Writer
Friday, February 01, 2008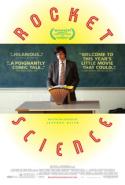 "I swear," says Hal's older, kleptomaniac, neurotic brother, "I don't know what you would do without someone in this family who could steal and then organize." "This is one of those rare instances when having an advanced college degree might actually help," says Ben, the star debater.
The acting is excellent all the way around, and Thompson and Kendrick are especially good. Hal's character is a little weak, however, which means audiences won't be as apt to root for him as they did for, say, Napoleon Dynamite. He has a slight character arc, but a bigger one would have made the film stronger.
The film has a definite nihilistic message, which is underscored when one of the characters says, "Life is pointless. It's the same thing, over and over. Somebody may give you a trophy and make you think it's different, but it's all the same thing."
Later, Hal asks his father, "What are your thoughts on love, Dad?" "Oh, I don't know," he replies. "Coming here, I missed the off ramp and had to circle back three times. I don't even know if I can get you back to Plainsboro."
Hal then says, "It really shouldn't be rocket science, Dad." "Well, when you reach a certain age, and a certain place," his father answers, "you stop trying to figure it all out. You're just glad for what you have."
It's a good point, in the context of a good film. However, it can't help but echo the desperation of teenagers searching for meaning and truth.
DVD EXTRAS:
The Making of Rocket Science
Rocket Science Music Video
CAUTIONS:
Drugs/Alcohol: Teenager pushed to his emotional limits ferrets out a bottle of whiskey stolen by his brother and chugs it throughout the rest of the evening, eventually becoming extremely drunk (and destructive).
Language/Profanity: A few profanities, one of which is strong.
Sexual Content/Nudity: Teenage son is forced to overhear his recently-separated mother making love to his best friend's father; adolescent boy tries on a bra; unmarried adults kiss passionately in front of their teenage boys; teenage boy and girl kiss passionately in broom closet; an older brother talks extensively about the merits of oral sex and advises his younger brother how to persuade young women to do so; teenage boy makes a rude hand gesture; two adolescent boys flip through the Kama Sutra (with repeated, though brief shots of its contents) and discuss "positions;" double entendres about self-gratification; extensive shot of male teacher sitting cross-legged in his underwear, mumbling about "open relationships;" principal asks if boy is girl's little brother, to which he replies, "I'm her ex-lover;" boys asks girl if "groping through the shirt counts as second base."
Violence: Teenage boys listen as their parents argue vociferously; later, teenage boys overhear mother fighting with live-in boyfriend, before they break up and he leaves as well; adult man screams and throws bikes in frustration; a boy holds up a sign that says, "Die" when another boy attempts to give a speech; frustrated teen throws a cello at a house over and over again, eventually breaking a front window.
Have something to say about this article? Leave your comment via Facebook below!
advertise with us
Example: "Gen 1:1" "John 3" "Moses" "trust"
Advanced Search
Listen to Your Favorite Pastors