Red Riding Hood Returns in Hoodwinked Too!
Christian Hamaker, Crosswalk.com Contributing Writer
Friday, April 29, 2011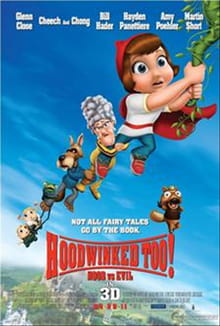 This time, Mike Disa has taken over as director, while Edwards is credited as co-writer of the script. He also still lends his voice to the character of Twitchy, the over-caffeinated squirrel from the first Hoodwinked and one of a number of returning characters for the sequel.
Those characters include Little Red (no longer voiced by Anne Hathaway; this time it's Hayden Panetierre), a "Sister of the Hood" in training who is chosen by the Happily Ever After agency to find out what happened to Hansel and Gretel (Bill Hader and Amy Poehler). According to Granny Puckett (voice of Glenn Close), the rotund kids are "going to become baked goods any minute" at the hands of a witch (Joan Cusack), unless Red and Wolf (Patrick Warburton) can prevent it.
The attempts at humor come fast and furious, but don't amount to much. That's not for lack of effort. Edwards shares the screenwriting with Hoodwinked alums Todd Edwards and Tony Leech, and they bring a manic energy to the new screenplay. The problem is that Hoodwinked Too!, while not terribly offensive, isn't very funny. The jokes rush by and rarely generate any laughs. The attempts at humor also often draw on subjects and pop-culture references that have entered the pop-culture lexicon but which originated in R-rated films like The Silence of the Lambs and Scarface. Those bizarre attempts at generating laughs for more mature viewers are distasteful and will mean little to the younger viewers sure to comprise a large part of the Hoodwinked Too! audience. The script's nods to our culture's emphasis on visuals over the printed word only underline the problems with Hoodwinked Too!, where the pointless 3D visual presentation matches the why-did-they-bother quality of the screenplay.
If that doesn't sound like your idea of a fun time at the movies with the kids, then skip Hoodwinked Too! and read a good book. A classic fairy tale might do the trick.
CAUTIONS:
Language/Profanity: "doodie"; "stupid, meddling jerk-face"; "a big pile of number two"; "dammit"; jokes about passing gas; "oh, schnitzel."
Alcohol/Smoking/Drugs: A wolf says, "I'll be at the bar."
Sex/Nudity: None, although two female squirrels are shown leaving a male squirrel's home.
Violence/Crime: Fairy-tale violence includes Hansel and Gretel characters being threatened by a witch who wears a mask with glowing red eyes; she says "chicken tastes just like children"; a large troll menaces Red; Granny is kidnapped; a large, scary spider; a character is swatted across the room; jokes comparing a character to a mobster; a threat to "grind up [one's] bones"; a spoof of Hannibal Lecter character from Silence of the Lambs; Red tugs hard on a rabbit's ears; three pigs go on violent spree; massive explosions; collision with a train.
Religion: A character says, "Dog is your co-pilot"; troll says, "I'm coming to the light, mama"; Little Red is said to be "finding her true path"; characters chant, "We're evil!"; a characters says, "I don't deserve to be saved" but is told, "You can always come back."

Questions? Comments? Contact the writer at crosswalkchristian@hotmail.com.

Have something to say about this article? Leave your comment via Facebook below!
advertise with us
Example: "Gen 1:1" "John 3" "Moses" "trust"
Advanced Search
Listen to Your Favorite Pastors