Apes Reboot Desperately Seeks Charisma
Christa Banister, Crosswalk.com Contributing Writer
Friday, August 05, 2011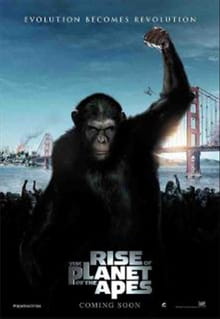 DVD Release Date: December 13, 2011
Theatrical Release Date: August 5, 2011
Rating: PG-13 (for intense and frightening sequences of action and violence)
Genre: Sci-Fi, Thriller, Action, Drama
Run Time: 105 min.
Director: Rupert Wyatt
Actors: James Franco, Frieda Pinto, John Lithgow, Brian Cox, Tom Felton, Andy Serkis, David Oyelowo
Remember how utterly bored and distracted James Franco (127 Hours) looked when he co-hosted the Oscars with Anne Hathaway (Rio) this past February? Well, apparently the script for Rise of the Planet of the Apes didn't exactly light his fire either.
While the movie star who also moonlights as an artist, author and grad student certainly proved he could carry a movie all by himself in 127 Hours, Franco looks like he's perpetually sucking on a lemon here. Or perhaps, he's seriously bummed that he's still got a big paper to finish after filming his scenes. Either way, it's a performance that feels phoned in, which isn't exactly a stellar start to a movie where human emotion is already in short supply.
If anything, the screenwriters should've made "bored" and "distracted" some of his character's inherent qualities because then—and only then—Franco would be right on point. Instead, we're supposed to believe this grump on wheels is actually a compassionate, forward-thinking scientist, Will Rodman, who's selflessly devoted all his manpower to finding a cure for his father's (John Lithgow, Leap Year, TV's How I Met Your Mother) advanced case of Alzheimer's.
After a few unsuccessful attempts at perfecting the cure he's been working on, Will is now convinced that he's finally developed the perfect remedy. In fact, he's already been testing the meds on his company's own furry subjects, a lovable collection of apes who seem to be getting smarter and smarter as a result, a clue that the disease's slow deterioration of the brain could likely be reversed.
Seeing major dollar signs in his company's future, not to mention an opportunity for world-changing bragging rights, Will's boss, Steve (David Oyelowo, TV's The Good Wife) is ready to move things along—and fast. So without much more than an initial trial run, he's already pushing for the new drug's approval.
But in one of the film's few funny moments, right as Steve is making his big pitch to the board, things naturally take a significant turn for the worse. While Steve is blathering on and on about the treatment's lack of potentially controversial side effects, the apes are going positively loco in the next room.
Needless to say, when they bust through the glass in the conference room, the drug is a no-go.
Have something to say about this article? Leave your comment via Facebook below!
advertise with us
Example: "Gen 1:1" "John 3" "Moses" "trust"
Advanced Search
Listen to Your Favorite Pastors