Art Does Just Enough to Get By
Christian Hamaker, Crosswalk.com Contributing Writer
Monday, June 20, 2011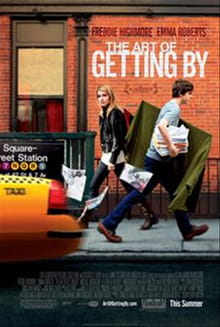 DVD Release Date: November 29, 2011
Theatrical Release Date: June 17, 2011 (limited)
Rating: PG-13 (for thematic elements including sexual content, language, teen drinking and partying)
Genre: Drama, Romance
Run Time: 83 min.
Director: Gavin Wiesen
Actors: Freddie Highmore, Emma Roberts, Michael Angarano, Sasha Spielberg, Marcus Carl Franklin, Blair Underwood, Rita Wilson, Sam Robards, Alicia Silverstone
George Zinavoy (Freddie Highmore, Astro Boy) has a problem. Obsessed with thoughts of mortality and the pointlessness of existence, he gives voice to "a real problem with motivating" himself.
A teacher, recognizing that George is listless and on the cusp of failing his class, tells him to find something to say, and say it. The same question could have been put to the filmmakers. What did they have to say with The Art of Getting By? Why did they make this movie?
That may sound dismissive, but it's not intended to be. The Art of Getting By has its strengths, but it's hard to figure out what motivated people to make a character-driven drama about George, whose appeal and charm are negligible. Were he played as a rascal or a conniver, that would be a different matter, but the filmmakers have made George into a privileged whiner. They want us to take George's side, to empathize with him, but they never close the sale. It's George's love interest, Sally (Emma Roberts, It's Kind of a Funny Story), who takes up the slack, giving a charge to a film that often threatens to peter out but sparks to life just enough to hold our interest and carry us to the end credits.
We meet George as he wonders about the "inevitability of dying alone." Nothing will help avoid his fate, he says. So mired is George in this existential crisis that he can't be bothered to do his homework. His mother frets that if he doesn't do well in school, he won't be able to get a job, but her concern only feeds George's apathy.
Enter Sally, a fellow student who breaks the school rules (she's nearly caught smoking until George takes the fall for her). They become fast friends, providing George with the possibility of a relationship that might life new purpose—and just in time. George's prospects at school have grown dire: He's facing suspension if his performance doesn't improve quickly. Too bad he'd rather hang out with Sally, party and continue to blow off his studies rather than get serious.
Instead, the two of them cut school, see matinee movies and learn that George isn't the only one in his family struggling with daily responsibilities. His stepfather, Jack, is spending his days in restaurants and at city bus stops, having been evicted from his office space. That gives George a secret he can use as leverage whenever his mom (Rita Wilson, It's Complicated) and Jack (Sam Robards, Che: Part One) bring up George's problems, but the story never makes Jack's situation seem essential to George's problems. It does, however, provide a springboard to a late-in-film revelation about George's mom and her marital struggles—also superfluous, although Wilson's big scene of emotional unburdening to her son is affecting.
Have something to say about this article? Leave your comment via Facebook below!
advertise with us
Example: "Gen 1:1" "John 3" "Moses" "trust"
Advanced Search
Listen to Your Favorite Pastors