Larry Crowne Should Have Been Better
Christian Hamaker, Crosswalk.com Contributing Writer
Friday, July 01, 2011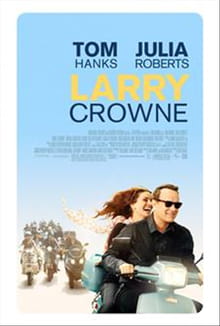 DVD Release Date: November 15, 2011
Theatrical Release Date: July 1, 2011
Rating: PG-13 (for brief strong language and some sexual content)
Genre: Comedy, Drama
Run Time: 99 min.
Director: Tom Hanks
Actors: Tom Hanks, Julia Roberts, Cedric the Entertainer, Taraji P. Henson, Gugu Mbatha-Raw, Wilmer Valderrama, George Takei, Bryan Cranston, Rami Malek, Rita Wilson
In case you hadn't noticed, movies have long catered to the teen audience. Especially during the summer months, when kids are out of school, major studio films emphasize spectacle, minimize dialogue and maximize special effects.
Studios have attempted to buck this trend by releasing films that appeal to older audiences. However, the trouble is that these films tend to not be inexpensive to produce and thus often struggle to break even, much less make a profit. Contributing the lion's share of the problem is the stars, who command large salaries but don't deliver the big audiences they once did. Thus, the box-office grosses haven't justified the money paid to the talent.
A good example of this conundrum is Julia Roberts, who was put under the box-office microscope in 2009 when she starred with Clive Owen in Duplicity, a romantic comedy that was considered an underperformer in terms of ticket sales. The film was released around the same time as State of Play (a Russell Crowe vehicle) and The Soloist (Robert Downey Jr. and Jamie Foxx). These films were all aimed at adult audiences—and all proved disappointing. Were adults no longer interested in going to the movies? Perhaps they were leading an exodus away from theaters, tired of the hassles of dealing with unruly patrons. Maybe they'd rather stay home and watch videos.
Then something changed. Adult audiences have returned to the cinema. During the first half of 2011, older viewers helped drive ticket sales of Oscar nominees like True Grit, The King's Speech, Black Swan and The Fighter. This trend is expected to only grow stronger with retirement of 78 million Baby Boomers—a generation that grew up going to the movies and that still values the experience of seeing films at the theater.

Larry Crowne is tailor made for this growing audience segment. Co-starring Roberts and Tom Hanks, two of the biggest stars of the last twenty years, the film feels like a throwback to an era before 3D glasses became standard equipment at the multiplex. Hanks directs the film (he directed the 1996 feature That Thing You Do!, as well as installments of the TV miniseries Band of Brothers and From the Earth to the Moon), and he also co-wrote the script with Nia Vardalos (My Life in Ruins).
Have something to say about this article? Leave your comment via Facebook below!