Machine Gun Preacher Not a Misfire
Christian Hamaker, Crosswalk.com Contributing Writer
Friday, September 30, 2011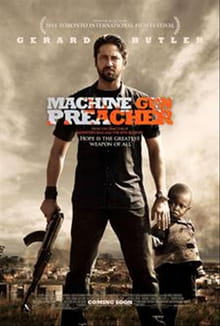 DVD Release Date: June 5, 2012
Theatrical Release Date: September 30, 2011 (wide)
Rating: R (for violent content including disturbing images, language, some drug use and a scene of sexuality)
Genre: Drama
Run Time: 127 min.
Director: Marc Forster
Actors: Gerard Butler, Michelle Monaghan, Michael Shannon, Kathy Baker, Souleymane Sy Savane
Tired of Christian films that make faith out to be something sweet and respectable? Then try Machine Gun Preacher, the story of a man who gets saved from a life of depravity and who then tries to save others from the ravages of ethnic bloodshed in Africa. It's a film about Christians that doesn't shy away from spiritual darkness before life in Christ, nor from the temptations that follow salvation. But it also sends mixed signals about what viewers are supposed to find admirable in its title character.
Sam Childers (Gerard Butler, How to Train Your Dragon) is just out of jail, eager to return to his life of drug abuse with his friend (Donnie). His wife, Lynn (Michelle Monaghan, Source Code), greets him outside of prison, but has a surprise for him once they return home: She's changed, and she won't be returning to the strip club where she once worked. "God found me. He helped me change," she tells Sam, who wants nothing to do with her newfound faith.
Instead, Sam hangs around with his druggie friend Donnie (Michael Shannon, Jonah Hex). One night, they pick up a hitchhiker who puts a knife to Donnie's neck. Sam retaliates and nearly kills the drifter, then later attends Lynn's church and responds to an altar call ("God was looking out for both of us," he says later of the still-alive hitchhiker).
The film's unblinking depiction of Sam's depravity—he swears like a sailor and relishes his rough lifestyle—makes his salvation memorable, but the film's message becomes murkier thereafter. Although ambiguity can be a strength (think of Robert Duvall's towering performance as a self-justifying preacher in The Apostle), director Marc Forster (Quantum of Solace, The Kite Runner) and writer Jason Keller portray Sam with clear admiration that they want audiences to share, at least during the early scenes of Sam's born-again life. When Sam tells Lynn that God spoke to him directly about building a church in the U.S., and an orphanage and school in Africa, no one questions him. When the home church's speaker fails to show for its first service, Sam delivers the sermon and is soon preaching regularly. We're not told much, if anything, about the church's structure—it remains unclear to whom Sam answers, if anyone.
Have something to say about this article? Leave your comment via Facebook below!
advertise with us
Example: "Gen 1:1" "John 3" "Moses" "trust"
Advanced Search