Moneyball Defies Genre, Hits a Homer
Jeffrey Huston, Crosswalk.com Contributing Writer
Friday, September 23, 2011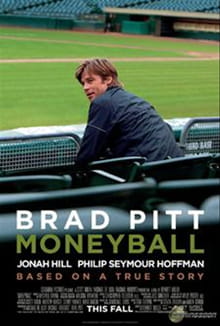 Initially unsuccessful, Beane must either concede defeat or double-down. Doing the latter is what makes Beane a true revolutionary; though James had originated the process and Brand (a.k.a. DePodesta) mastered it, it's Beane alone who has the faith to actually try it without compromise. Peter may be the brains, but Beane has the heart (and guts). The results are staggering—even breaking one seemingly insurmountable record—and forever redefined how players are evaluated, drafted, traded and acquired, and how teams are built.
If the details only sound remotely interesting, it's the filmmakers that make it all absolutely thrilling. What resonates isn't so much what happens but how it unfolds. Reputations are on the line, livelihoods at stake, and inevitably the pursuit of the predictable yields unpredictable results.
With such a profound shift to conventional thinking, one slip up—no matter how minor, or even in the context of previous success—can invalidate the effort in the minds of most, and make the risk all for naught. We feel the pressure for Beane to be perfect, the exaltation when he is, and the pain when he is not.
Plus, to approach a game so romanticized by its participants, to then turn it into a cold science makes the job of trading, demoting or cutting a player that much more difficult, even soulless. It's hard to tell someone who's put his heart into doing everything asked of him that the equations just don't add up in his favor. As Beane masters the system, some good people are washed up in its wake.
Brad Pitt gives one of his most appealing performances as the charismatic and driven Billy Beane. Pitt's best when simply being a version of himself rather than trying to effectuate an accent or some heightened trait. He's a leading man, not a character-actor (despite how often he tries to be), and he's rarely been better than here. As Peter Brand, Jonah Hill (Megamind) gives one of the more impressive turns of recent memory. In this shy, against-type performance, Hill's dramatic chops are a revelation; an Academy Award Supporting nomination could be in order. The remaining cast, with its mix of acting veterans and up-and-comers, rounds out an ensemble that universally reveals complexity and depth even in the smallest roles.
The power-writing duo of Oscar-winners Aaron Sorkin (The Social Network) and Steven Zaillian (Schindler's List) adapt author Michael Lewis' well-researched and detailed book into a script that pops with energy, ideas, wit and insight. An especially good touch is the backstory of Beane's ill-fated baseball career; it reveals a man who was a victim of the old-school system he sought to revolutionize.
Director Bennett Miller (Capote), taking the reins from Oscar-winner Steven Soderbergh (Contagion) who was days away from shooting before the initial production fell apart, provides a stylized but understated tone that visualizes the intricacies of the story well while also exploring the emotional tensions and vulnerabilities of the characters. We're riveted, and we care. Credit Pitt, too, who as a tenacious producer saw this oft-troubled project through to completion.
This is a compelling effort, often moving but never maudlin, and as smart and honest a crowd-pleaser as you'll see all year.
CAUTIONS:
Drugs/Alcohol Content: None.
Language/Profanity: Occasional but not constant profanities. There are the usual suspects like a--, d---, and several variations of sh--, along with 2 uses of the "f" word and the "d" word that is sexual slang.
Sexual Content/Nudity: No sex or nudity. Jocks in locker rooms wearing towels, but nothing revealing or risqué.
Violence: A character flips a desk and takes a bat to a watercooler.
Have something to say about this article? Leave your comment via Facebook below!
advertise with us
Example: "Gen 1:1" "John 3" "Moses" "trust"
Advanced Search
Listen to Your Favorite Pastors