Super 8 Captures the Summer Movie Experience
Jeffrey Huston, Crosswalk.com Contributing Writer
Friday, June 10, 2011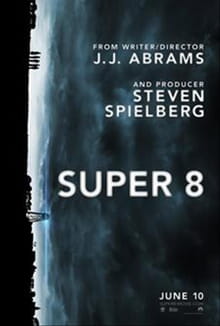 DVD Release Date: November 22, 2011
Theatrical Release Date: June 10, 2011
Rating: PG-13 (for intense sequences of sci-fi action and violence, language, and some drug use)
Genre: Sci-Fi Drama
Run Time: 112 min.
Director: J.J. Abrams
Cast: Joel Courtney, Elle Fanning, Kyle Chandler, Riley Griffiths, Noah Emmerich, Ron Eldard, Gyle Turman, Gabriel Basso, Ryan Lee, Zach Mills
A few days ago I saw Super 8, and for a couple of hours I was 10 again.
For anyone whose formative years were from the late-'70s through the '80s, and were in large part shaped by your escapes to the movie theater, Super 8 is more than a fun throwback or reverent homage to the films of that time (though it is, as much as any film has ever been, if any truly has).
Broader still, Super 8 isn't just the best summer movie of 2011. It's the best summer movie since the era that spawned summer movies. How fitting (and logical) that it's produced by Steven Spielberg, the filmmaker who started and dominated that era, and directed by the new wunderkind J.J. Abrams (Star Trek, TV's Lost) who, with this, is now Spielberg's successor.
Their collaboration hasn't merely resulted in a quintessential summer movie experience. Super 8 is the kind of movie that made an entire generation fall in love with movies. The kind that didn't just "wow" us but moved us, and meant something to us. That makes Super 8 more than an event; it makes it special.
I could go on and on about the Spielberg tropes that Abrams mirrors here in both aesthetic and narrative (from Close Encounters of the Third Kind and E.T. especially, though not exclusively) and spend an entire review annotating it all, but many others have and you can find them online easily enough. For me, there's something more effectual and important at its core.
While remarkable and even thrilling, it's not the homage to Spielberg's style that solely distinguishes Super 8. The great lesson Abrams takes from his mentor and implements here (as he has throughout his career) is an emotional earnestness that is as bold and open as it is unrepentant. It's not corny when it's this heartfelt.
Plot details have been heavily guarded in the build-up to its release, and I won't spoil them here. But the best-kept secret isn't what The Creature is; it's that this is a personal story with raw emotions, expressed with tension and tenderness by a wonderful and largely unknown cast.
The story is set in late 1970s rural mid-America, one that evolves into a "sci-fi in suburbia" Spielbergian fable. But that, and the adventures that come with it, are merely a context in which to tell a more fundamental human story, a coming-of-age tale that deals with everything from first love to tragic loss, that wrestles with pain, separation, death and grace, that runs the gamut from relational distance to emotional awakening—and how the latter heals and redeems the former.
At the core of these dynamics are Joe and Alice, two middle-school tweens who are both living with (though not dealing with) separate troubles at home, each that are single-parent households. Not friends, they are brought together by a mutual classmate and aspiring filmmaker who's in the midst of scraping together a short film on his super 8 camera (hence the title) with the hopes of entering a local film festival.
Have something to say about this article? Leave your comment via Facebook below!
advertise with us
Example: "Gen 1:1" "John 3" "Moses" "trust"
Advanced Search
Listen to Your Favorite Pastors