The Sitter Makes You Want to Stay Home
Christian Hamaker, Crosswalk.com Contributing Writer
Friday, December 09, 2011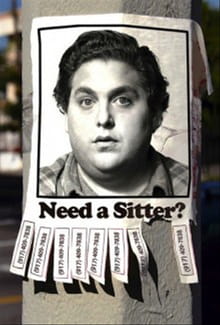 The group doesn't stay put in the house for long. When Noah's girlfriend calls with the promise of "full-on sex" if he shows up at a party, he jumps at the opportunity. But there's a catch: He needs to "pick up some coke" on the way. He drives the family's van, with the kids in tow, to see a local drug dealer (Sam Rockwell, who starred in Green's Snow Angels), but through Rodrigo's mischief, they leave with more drugs than they came for.
The rest of the film involves Noah trying to make amends for Rodrigo's theft while still attempting to meet up with Marisa. Noah is so blinded by the opportunity for sex with Marisa that he can't see the possibility of a new, more mutually affectionate relationship when he runs into an old friend from school (Kylie Bunbury, Prom). He's also preoccupied with the personal foibles of the kids he's watching, particularly Slater, whom he declares to be gay based on a glance Slater gives two men on a subway car and his longing to spend time with a male friend. Slater embraces Noah's diagnosis.
Then there's the destructive Rodrigo, who stays close to silent for much of the film, letting his explosive actions speak for themselves. Toward the end, he shouts an angry explanation for his behavior (he's been passed from home to home and has had enough).
The Sitter does have a few stretches of manic energy and some laughs, but it refuses to judge any of its young characters' sexual escapades (on the plus side, it does condemn adultery in parental figures, and presents characters who clearly long for more stable home lives). Watching it is enough to make one long for the "good old days" of 1987, Adventures in Babysitting, and the relative innocence of that film's main character, as played by Elizabeth Shue. While not appropriate for the whole family—the film carried a "PG-13" rating—Babysitting is tame relative to The Sitter. Better yet, skip both movies and have a family game night with the kids. You won't be sorry you did.

CAUTIONS:
Language/Profanity: Lord's name taken in vain; explicit discussion of sex acts; reference to venereal disease; Noah tells his mom not to "give it up too easily" if her date goes well; "s-it"; numerous "f"-words; "a-shole"; "b-stard"; "b-tch"; Blithe says she passed gas, but something more came out; gay slur; "d-ck."
Alcohol/Smoking/Drugs: Slater takes pills for anxiety; Karl snorts cocaine; Rodrigo takes drugs from Karl; Noah says he was once addicted to Robitussin.
Sex/Nudity: Cleavage; kissing; Marisa offers Noah "full-on sex" if he'll bring her cocaine; men shown in tights; Noah encourages Slater to make a "Slater sandwich" with two female friends; reference to strip search and to prostitutes; gunfire and bullet wounds; a married man is accused of sleeping with a co-worker; Noah says his childhood babysitter slept with his dad and broke up his parents' marriage; Noah tells Slater that Slater is gay; a character advises Noah to "make love to the night"; Noah advises a philandering husband to return to his "smokin' hot" wife.
Violence/Crime: Blithe sprays Noah in the face with perfume; Rodrigo lights fireworks in the house, knocks a bottle of liquor and a vase onto the floor, blows up toilets using cherry bombs, pees on floor and savagely bites human ears; Noah says he's been arrested several times; brawling; a man's pants catch fire in the crotch area.
Marriage: Noah's parents are divorced, and his dad owes his mom alimony.
Religion: Noah says his name is biblical in origin, and a woman says the Bible is "a hot book"; a man says he prays for another character.
Questions? Comments? Contact the writer at crosswalkchristian@hotmail.com.
Have something to say about this article? Leave your comment via Facebook below!
advertise with us
Example: "Gen 1:1" "John 3" "Moses" "trust"
Advanced Search
Listen to Your Favorite Pastors