Think Like a Man Is a Sign of the Times
Christian Hamaker, Crosswalk.com Contributing Writer
Friday, April 20, 2012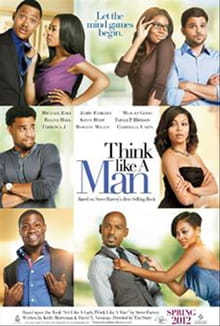 The women in the film struggle with past instances of getting too intimate too quickly, but they have difficulty not falling into that trap. Faith is rarely front and center in their lives; instead, in the movie Christianity is played for laughs, with characters expressing their shared faith in the midst of passionate foreplay.
More important to the characters than questions about religious faith are queries like, "What are your long-term goals?" that are designed to root out the men who aren't interested in a serious commitment.
If there's a scene-stealer in Think Like a Man—one performance that stands out from the rest—it's Kevin Hart (Little Fockers) as Cedric, a man on the verge of finalizing his divorce. By turns hyper and angry, the embittered Cedric launches one verbal volley after another about his friends' romantic pursuits. Watching Hart, it's easy to see why his concert documentary from last year, Laugh at My Pain, was a breakout success in limited release. He's a talent waiting to find a large, appreciative audience, and Think Like a Man may just catapult him to greater things. Long after Think Like a Man is forgotten, Hart is likely to still be around, making audiences smile.
Better those audiences remember Hart and his comic energy than they do Think Like a Man's 90-Day Rule, the movie's strip-club discussions or its jokes about gays. Sure, some of Harvey's advice is a step in the right direction for people adrift in a sea of bad relationship advice—but it's often nothing more than a step. Think Like a Man is far too sure of its own good intentions, and far too willing to overlook its moral shortcomings.
There are some laughs to be had in Think Like a Man, but the lessons it teaches are less about how the sexes should treat each other than they are about how low the bar has been set in terms of dating expectations. For deeper guiding principles encompassing all of the areas in one's life, there's a better Book to consult than Harvey's.

CAUTIONS:
Language/Profanity: "Kicked you're a-s"; "s-it"; references to male and female genitalia; "da-n"; "pissin'"; "kind of gay"; "b-tch"; "Christ sakes"; "ti-ties"; strip clubs have explicit names; racial epithet; "bull-hit."
Alcohol/Smoking/Drugs: Talk about getting high, and of cigarette burns and bong spills; several scenes of drinking; a woman blows out smoke from a bong hit she takes off screen, and she reminisces about getting high in college; drinking in celebration of the finalization of man's divorce.
Sex/Nudity: An animated gag about circumcision; a comment that marriage was the only way for men to get what they want in the old days, but now we have the Internet for that; a character asks, "You sexted?"; implication that a boy is gay; allusion to sex the previous night; bare-chested men in several scenes; a woman tries to follow Harvey's "90-Day Rule" of waiting to have sex with her boyfriend; the woman's sex organ is referred to as a "cookie" that she should keep locked in a cookie jar; a man offers to pay two women to kiss; a boy asks if his mother plans to date a man or a woman, adding that Grandma is starting to wonder; passionate kissing; a woman sleeps with a man on their first date; a man says he's the original "negro gigolo"; discussion of STDs and of "getting laid" on a couch; discussion of sex games; people wrapped in sheets after sex; an older man descends the stairs in a bathrobe toward another woman in a bathrobe, implying that the two have had sex; a woman tells another woman, "I have someone who's perfect for you. Her name is . . ." suggesting that the other woman is gay.
Violence/Crime: Comments include "they found Jesus," and "I'm a Christian, too."
Marriage/Religion: A character says "Sorry, but Jesus has my heart"; divorced woman is said to have not had sex for several years; the Bible is cited as the source for an outrageous comment; someone says, "I want you and Jesus"; a man says "thank you" and looks toward the heavens.
Questions? Comments? Contact the writer at crosswalkchristian@hotmail.com.
Have something to say about this article? Leave your comment via Facebook below!
advertise with us
Example: "Gen 1:1" "John 3" "Moses" "trust"
Advanced Search
Listen to Your Favorite Pastors