Three Musketeers Doesn't Have Much Fight
Christa Banister, Crosswalk.com Contributing Writer
Friday, October 21, 2011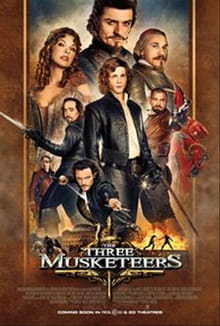 Release Date: October 21, 2011 (2D/3D Theaters)
Rating: PG-13 (for sequences of adventure action violence)
Genre: Action/Adventure
Run Time: 110 min.
Director: Paul W.S. Anderson
Actors: Matthew Macfadyen, Milla Jovovich, Luke Evans, Orlando Bloom, Christoph Waltz, Christian Oliver, Markus Brandi, Ray Stevenson, Til Scheweiger, Jane Perry, Dexter Fletcher, Mads Mikkelsen, Ben Moor, Andy Gathergood
Perhaps hoping to capitalize on the swash-buckling success of Pirates of the Caribbean: On Stranger Tides from this past summer, The Three Musketeers could've used a little—make that a lot—of Captain Jack's charisma.
See, even the weakest outing in the Pirates franchise still doesn't have that stale, just-taken-out-of-mothballs feel that The Three Musketeers unfortunately has in spades. Why anyone would bother adapting Alexandre Dumas's famed novel yet again—with no new angle to boot—is a real head-scratcher.
Far more vexing is why the filmmakers selected such gaudy set pieces and insanely dopey dialogue to accompany this big-budget affair. Everything about it, from the overblown action sequences to the dark and dingy images that don't even pop in 3-D, feel like a cheap nod to yesteryear—and not in that endearingly nostalgic fashion.
Just in case you forgot you bought a ticket for The Three Musketeers, their signature catchphrase "all for one and one for all" is dispassionately delivered again and again by several characters, one of the script's many failed attempts to connect with its source material. Strangely enough, the only line that really resonates is something one of the musketeers, Aramis (Luke Evans, Robin Hood) says with uncharacteristic vigor: "There are no grand causes left."
And yes, that's probably how most moviegoers will feel after two hours of this...
Set mainly in seventeenth-century France, just like Dumas's novel, that's about all this year's musketeers share in common with his. Themes of brotherhood, bravery and fighting for a cause are long gone and substituted with, well, a story and characters you couldn't care less about.
For fans of the novel, it's a pretty familiar story. While under the rule of Louis XIII (television actor Freddie Fox), the three musketeers, once formidable fighters for all that's good and profitable, have lost their mojo after being betrayed by an unfaithful accomplice during a secret mission. Not quite sure what to do now that wielding swords has taken a backseat, they're eventually revitalized when a spirited youngster meets their acquaintance. Chaos ensues.
If you find yourself bored during a bevy of go-nowhere battle scenes, however, counting anachronisms is a fantastic way to pass the time. From the curious casting of teen heartthrob Logan Lerman (Percy Jackson & the Olympians: The Lightning Thief) as D'Artagnan (note his decidedly modern Justin Bieber-esque haircut) to the surprisingly current turns of phrase featured in day-to-day conversation, these musketeers seem to be in a perpetual time warp.
Have something to say about this article? Leave your comment via Facebook below!
advertise with us
Example: "Gen 1:1" "John 3" "Moses" "trust"
Advanced Search
Listen to Your Favorite Pastors