We Bought a Zoo Will Have You at Hello
Christa Banister, Crosswalk.com Contributing Writer
Friday, December 23, 2011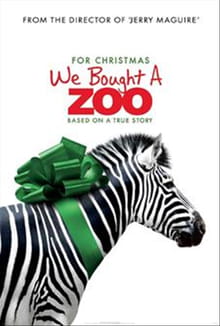 DVD Release Date: April 3, 2012
Theatrical Release Date: December 23, 2011
Rating: PG (for language, some thematic elements)
Genre: Drama, Adaptation
Run Time: 124 min.
Director: Cameron Crowe
Actors: Matt Damon, Scarlett Johansson, Thomas Haden Church, Colin Ford, Maggie Elizabeth Jones, Angus Macfadyen, Elle Fanning, Patrick Fugit
While it's doubtful that "You know, sometimes all you need is twenty seconds of insane courage" will catch on like "I gave her my heart, she gave me a pen" did in Say Anything or "Show me the money" in Jerry Maguire, it takes a real pro like Cameron Crowe (Elizabethtown) to transform what could've been a big schlocky mess into something meaningful with We Bought a Zoo.
See, true story or not, the film's log-line had sappy ABC Family movie written all over it. We've got the newly single dad, Benjamin played by Matt Damon (Happy Feet Two) no less, trying to simultaneously get over the death of his wife and raise a rebellious son (Colin Ford, TV's Supernatural) and adorably precocious daughter to boot (Maggie Elizabeth Jones, Footloose). We've got the snarky but oh-so-wise BFF, Duncan (Thomas Haden Church, Easy A) offering unsolicited advice right and left and a beautiful love interest, Kelly (Scarlett Johansson, Iron Man 2) who's just dying to console our hurting protagonist. And if that wasn't enough to potentially send someone's cynical gauge into overdrive, well, our leading man is so principled and earnest that he quits his writing job, which incidentally aren't all that easy to come by these days, because he senses it's becoming a pity gig.
So what does a nominee for "Dad of the Year" do when you need to support your family and want to "give them an authentic American experience?" Well, buy a zoo, naturally! After all, it's not possible to cram too much cuteness into one single film, right? Riiiiiight?
Considering that animals are involved, there are plenty of cute moments (with perfectly placed music to tug at your heartstrings playing in the background, natch) in We Bought a Zoo. What's the real surprise is it's so much more than the sum of its parts. Like Duncan said to Ben in one of the film's best scenes—you'll like the animals, but you'll love the humans.
First off, what makes We Bought a Zoo so likeable is that family plays such a starring—and believable— role. Unlike so many screenplays where a deceased hubby or wife is merely a convenient jumping-off point for whatever happens next, we repeatedly feel just how much Benjamin misses his wife. Maybe it's because the actress playing the dearly departed looks a little like his own wife, or perhaps, it's a tribute to his acting range, but whatever makes him convey such emotion, it's working. In fact, aside from playing Jason Bourne, another animal altogether, it may be one of Damon's finest performances.
Have something to say about this article? Leave your comment via Facebook below!
advertise with us
Example: "Gen 1:1" "John 3" "Moses" "trust"
Advanced Search
Listen to Your Favorite Pastors