Irreplaceable Will Surprise You with Its Journey to Grace
Shawn McEvoy, Managing Editor, Crosswalk.com
Friday, May 02, 2014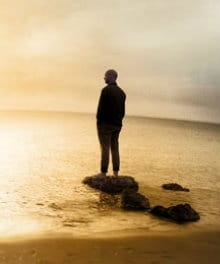 Release Date: In U.S. theaters one night only, Tuesday, May 6, 2014. UPDATE: Encore presentations have been announced for Thursday, May 15. Tickets available through FathomEvents.com.
Rating: Focus on the Family has attached its own "Parental Guidance Suggested; 15+" rating to the film
Genre: Documentary
Run Time: 85 minutes
Director: Tim Sisarich
Cast: Tim Sisarich (narrator)
What's wrong with the world?
Within the first half hour of Focus on the Family's one-night movie event Irreplaceable, BreakPoint's John Stonestreet answers that question by borrowing from G.K. Chesteron, who once famously responded with the concise answer: "Dear Sirs, I am."
Even if everything else were a perfect Utopia, Stonestreet elaborates, I'd still be here mucking things up for everyone with my selfish and sinful ways. It's a useful point when it's made and a salient subject to think upon, but what does it have to do with this film, the posters for which feature the potentially-inflammatory question, "What is family?"
I'm glad you asked, because the way things come back around to this subject by the end of the film is one of the best things about Irreplaceable, which, I'm happy to report, is a production of Christian media that rises gracefully above much of what has come before.
But it didn't necessarily look or feel like it was going to be that way from the start. What was I expecting? Something more like a ball-peen hammer of Bible verses plus wailing and gnashing of teeth. Pointing fingers and desperate voices. After all, we'd heard that some theaters had already decided not to show this "controversial" film, and in the first five minutes there's a bit of a "here we go again" vibe as grainy pictures of happy couples from the "good old days" dot the screen, with backward-longing lines like, "Attitudes about marriage have shifted dramatically since our parents were kids" and "It used to be all about family" (did it?).
But it's all leading up to something, and not necessarily the something you think. But more on that in a minute.
Our host for these proceedings is director and narrator Tim Sisarich, who works for Focus on the Family in another part of the globe. Tim has a wife, five kids and a few father issues of his own which he'll reveal to us over the course of his journey. I'll admit to some initial skepticism at his being the choice to narrate this piece for no other reason than his enjoyable New Zealand accent. I mean, just about any hot topic is kept below boiling point when discussed in politely soothing Kiwi strains, no? But it turns out Sisarich has an even greater strength than his voice, and that's his humility, his willingness to listen, to learn. I can't emphasize enough how key these assets are to the outcome of Irreplaceable, and how well they function as examples for other Christians to engage the world.
Tim admits that, as a modern dad, two of his goals are to "fix whatever's wrong" and "keep [his family] safe." And so it also goes, he says, with Focus on the Family and their ministerial mission. And so, representing both himself and his parent ministry, off he goes on a world tour in search of everything from history to contemporary culture in order to, well, "fix whatever's wrong" with the family, and keep the institution of the family safe.
Have something to say about this article? Leave your comment via Facebook below!
advertise with us
Example: "Gen 1:1" "John 3" "Moses" "trust"
Advanced Search
Listen to Your Favorite Pastors