James' Comedic Talents Showcased in Paul Blart
Jeffrey Huston, Crosswalk.com Contributing Writer
Friday, January 16, 2009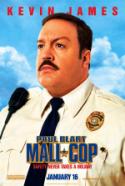 Still, he's better than most in large part because of the conviction and humanity he brings. Most comics play the obligatory "awe shucks" likeability, but James really invests a sincerity that elevates the material. He makes moments laughable or tender that aren't inherently so simply by what he brings as an actor. He and Director Steve Carr even seamlessly blend the two moods, giving a sweetness to romantic moments while still imbuing them with humor (a collection of passionate '80s ballads in the soundtrack certainly helps, too). On top of all that, the content is a very mild PG. There's virtually no profanity, the handful of innuendos are fairly vague, and on the whole is about as inoffensive as Hollywood comedies get.
Yes, the movie does drag a bit (even at a tight 87 minutes). It starts strong as it focuses on the character of Blart (and James' performance), but when it eventually kicks into its plot machine the movie loses both its Blart-focus and consistency of laughs. There's still enough to keep audiences entertained, though, and is as sure-fire a safe crowd-pleaser as you'll find. It's sure to do good box office, have a long life on DVD, and maybe even inspire a Paul Blart: Mall Santa sequel—and if that means giving Kevin James even more films with better scripts, then I'm all for it.

CAUTIONS:
Drugs/Alcohol: Co-workers go out for drinks at a bar after work. Blart unknowingly consumes a pitcher of margaritas during an eating contest and becomes inebriated. It's played for laughs.

Language/Profanity: Only one swear word/phrase is used—"Go to hell". The crude phrase "Eat me". Someone asks in a phone call "Are you sweaty over her right now?" There's also a lyrically suggestive ring tone that briefly occurs a couple of times that uses the metaphor of chewing bubble gum. A jar of hot sauce with the fake brand "The Devil's Crotch".

Sex/Nudity: An overweight woman's shirt is pulled up during a fight in the mall. She is wearing a bra. A romantic kiss, but chaste. A stalker boyfriend character (but is played for laughs).

Violence/Other: All violence is played for light action or outright comedy, mostly consisting of gunfire and fighting. Criminals stab at Blart with a sharp metal pipe through a vent system, but Blart is never actually stabbed.

Jeffrey Huston is a film director, writer and producer at Steelehouse Productions in Tulsa, Okla. He is also cohost of the "Steelehouse Podcast," along with Steelehouse Executive Creative Mark Steele, where each week they discuss God in pop culture.

To listen to the free, weekly podcast, please visit www.steelehouse.com or click here. You can also subscribe to the "Steelehouse Podcast" through iTunes.


Have something to say about this article? Leave your comment via Facebook below!
advertise with us
Example: "Gen 1:1" "John 3" "Moses" "trust"
Advanced Search
Listen to Your Favorite Pastors