Jesus Camp an Interesting Look Into Growing Subculture
Annabelle Robertson, Entertainment Critic
Monday, January 22, 2007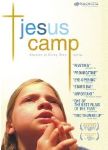 So obviously, Fischer loves Jesus and wants to teach kids to do so as well, by embracing an intense commitment to holy living as well as the political activism that characterizes her own faith. The problem is that Fischer violates a number of biblical injunctions with her teaching. She allows the children to pray in tongues throughout the worship service, for example, without an interpretation. This does against New Testament teaching as well as Pentecostal worship practices about the correct use of that spiritual gift. Fischer also appears to endorse little Levy as a preacher – despite the fact that he is too young to possibly meet the biblical prerequisites for character or calling.
Fischer further sets herself up for misinterpretation when she holds up a cardboard cutout of President Bush and extols his virtues, insisting that the children pray for him. Fischer does not tell the kids to "worship" Bush – as most film critics have said – and no where does she even imply it. Not only that, but as Christians, we are commanded to pray for our leaders. When the kids lay hands on the cutout, however, it does create a rather bizarre impression. And if educated journalists assume that the kids are being told to worship Bush, might the kids not think the same thing?
Likewise, Fischer's warlike dances, which include face paint and camouflage clothing, send an equally disturbing message – especially when combined with Fischer's talk about mimicking terrorists. Evangelicals will no doubt understand the many biblical metaphors and allusions she is using, and instinctively know that these words are meant to be applied in a spiritual sense – not a physical one. But others are left to shudder. It's a culture clash, to be sure, and Fischer is hardly "seeker sensitive."
"Democracy is designed to destroy itself," she explains, "because we have to give everyone equal freedom." This implies that Fischer is against democracy, which is probably not the case. But when the film is edited so that Fischer doesn't explain that kind of radical-sounding statement, it's hard to assume otherwise.
Most critics insisted after the theatrical release that the documentary was "very balanced" – especially after Fischer herself reportedly said that it was an accurate representation of her camp. It's clear, however, that everything from the creepy score to the choice of a liberal (as opposed to an evangelical) commentator were intended to sway the audience against this kind of teaching. Even Christians who share Fischer's theology may be uncomfortable with the charismatic worship – which includes children crying and rolling on the floor. It's not surprising, therefore, that soon after the film's release, Fischer was forced to close the camp because of threats and vandalism.
"Jesus Camp" is an interesting look into a subculture that represents, in one form or another, in whole or in part, a growing number of Americans. Whether you agree with Fischer's ways or not, however, "Jesus Camp" will likely drive home not only the polarization between believers and non-believers, but also how truly splintered we are as Christians today.
AUDIENCE: Teens and up
DVD EXTRAS:
Deleted scenes
Directors' commentary
CAUTIONS:
Drugs/Alcohol: None.
Language/Profanity: None.
Sexual Content/Nudity: None.
Violence: None.

Have something to say about this article? Leave your comment via Facebook below!
advertise with us
Example: "Gen 1:1" "John 3" "Moses" "trust"
Advanced Search
Listen to Your Favorite Pastors