Journey Transforms at the Marigold Hotel
Jeffrey Huston, Crosswalk.com Contributing Writer
Friday, May 04, 2012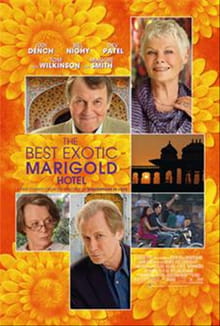 The plain fact of their ages makes those voids more valid and sympathetic; not only have they lived longer and understand regret more deeply, but the need for resolve and healing has a built-in immediacy. It can't wait. This is their last chance. That's much more compelling—narratively and emotionally—than, say, watching Julia Roberts portray a woman who actually has everything yet still whines about how unfulfilled she is and is afforded the extravagance of a year-long global safari to "find herself."
The script is also smart in thoughts and ideas, using the ages of these characters to reveal wisdom in ways that can turn over-used warm-fuzzy colloquialisms on their heads. When Judi Dench's character states rather frankly, "Sometimes when one door closes the rest stay shut as well," the context of her age and experience allows that insight to resonate with truth rather than come off as annoying self-pity (as it likely would from the mouth of someone in her thirties).
In an additional nice touch, the hotel itself serves as metaphor to these people. Though billed as a luxurious getaway, the group arrives to a hotel that is old, broken down, unwanted, and forgotten. Developers are ready to condemn it outright. That's exactly where these characters are at in their lives and how they're seen by the world. So when the young hotel manager boldly names it The Best Exotic Marigold Hotel, it's an expression of both vision and faith of what can be that these people need to recapture for themselves.
Led by Dench (J. Edgar), the cast is a Who's Who of older British thespians, most notably Tom Wilkinson (Michael Clayton) as the gay bachelor along with Maggie Smith and Penelope Wilton who co-star, respectively, as the Dowager Countess of Grantham and Lady Crawley in TV's period phenomenon Downton Abbey. Bill Nighy rounds out the lesser-known but recognizable rest, and all perform beautifully even though some are given richer arcs than others.
Wilkinson and Smith in particular stand out. His homosexuality is, as he says, "more in theory than in practice", and so it serves more as a catalyst to a storyline that's less interested in sexuality (he barely expresses it in the physical sense) than it is in personal conflict, how it has affected him, and its unintended impact on others. With Smith, what begins as a caricatured bigot evolves into a woman taken aback by the commonality of struggle she shares with an Indian maid servant who doesn't even speak her language. Dench brings her own gravitas in the anchor role as well, though the script does require her blog entries to serve as a didactic voice-over to make doubly-sure we're grasping every thematic point.
There's a lot of fluff here, too. Some of the lesser characters are more thinly drawn (like the two over-sexed ones, as well as Wilton's uptight wife), and the overly-animated young hotel manager played by Dev Patel (Slumdog Millionaire) is present more for comic relief than anything else as his dramatic arc is the film's most predictable.
Have something to say about this article? Leave your comment via Facebook below!
advertise with us
Example: "Gen 1:1" "John 3" "Moses" "trust"
Advanced Search
Listen to Your Favorite Pastors