Labor Day is a Big, Gooey Mess of a Movie
Christa Banister, Crosswalk.com Contributing Writer
Friday, January 31, 2014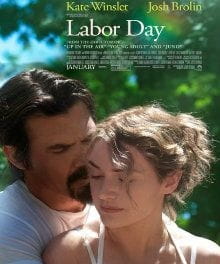 Release Date: January 31, 2014
Rating: PG-13 (for thematic material, brief violence and sexuality)
Genre: Drama
Run Time: 111 min.
Director: Jason Reitman
Cast: Kate Winslet, Josh Brolin, Gattlin Griffith, Tobey Maguire, Clark Gregg, Tom Lipinski, James Van Der Beek, J.K. Simmons, Brooke Smith
After an impressive streak of quality filmmaking that began with a whip-smart commentary on corporate spin control in 2005's Thank You for Smoking and includes Juno, Up in the Air and 2011's underrated critique of arrested development, Young Adult, writer/director Jason Reitman finally has a bona fide stinker on his resumé with Labor Day.
A movie so shamelessly sappy and devoid of any connection with reality that Nicholas Sparks, the gold standard in softly lit romantic escapism, would probably even say "Whoa, take it down a few notches!" one can't help wondering what Reitman was thinking.
Based on a novel by Joyce Maynard, Labor Day lacks everything that's made Reitman's past work so memorable—relevant social commentary tempered with a side of snark , a strong emotional core and perhaps, the most important component of all, well-rounded characters.
Although Kate Winslet (Contagion) and Josh Brolin (Oldboy) give it all they've got as actors, a tribute to their respective talents given the syrupy script, the film's mind-numbing plot and inherent gooiness is simply impossible to overcome. Basically, if you've seen a Lifetime TV movie and wondered what would happen if an A-lister replaced Jennifer Love Hewitt or Tori Spelling as the damsel in distress, well, you're in luck.
Staying true to so many of the emotionally depleted characters she's tackled in the past, Winslet plays Adele, a frail soul so scarred by the outside world that she's afraid to leave her cluttered house. Ditched by her husband (Clark Gregg, Man of Steel) for his secretary long ago, the only real sense of security she has is the company of her 13-year-old son Henry (Gattlin Griffith, Green Lantern).
It's during a rare shopping trip, however, that Adele's ho-hum existence is given quite a jolt. While Adele shops for Henry's school clothes and Henry looks at comic books, Henry is approached by Frank (Brolin), a muscular, menacing presence with blood dripping from his side. Insisting that Henry and his mother give him a ride to their home ("frankly, this needs to happen," he threatens), Frank accompanies Adele and Henry to the checkout line, acting like he's just another member of the family. Why Adele or Henry don't scream, protest or at the very least, inform the checkout girl, security, anyone, of what's going on is anyone's guess.
Making an uncomfortable car ride even more uncomfortable, Frank lets Adele and Henry in on a little secret—he's an escaped convict. Naturally, this doesn't set well with Adele initially, but as long as he agrees not to hurt them—and leave by sundown—she's surprisingly calm about the new arrangement.
It helps that Frank isn't even your stereotypical criminal. Murder conviction and all, he's apparently quite a sweetie. Just in case Adele was ever accused of harboring a fugitive, Frank decides it's best if it looks like he kidnapped her. But when he ties her to a dining room chair, he exercises extreme care and doesn't even bother with Henry. Then in a feat that Rachael Ray would certainly approve of, he uses what's in the pantry to whip up a pot of chili and feeds Adele one delicious spoonful after the next.
Have something to say about this article? Leave your comment via Facebook below!
advertise with us
Example: "Gen 1:1" "John 3" "Moses" "trust"
Advanced Search
Listen to Your Favorite Pastors