Laughs and Lewdness Make the Cut in Blades
Lisa Rice, Contributing Writer
Friday, March 30, 2007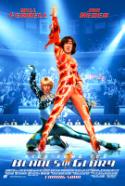 DVD Release Date: August 28, 2007
Theatrical Release Date: March 30, 2007
Rating: PG-13 (for crude and sexual humor, language, a comic violent image and some drug references)
Genre: Comedy
Run Time: 93 min.
Director: Josh Gordon and Will Speck
Actors: Will Ferrell, Jon Heder, Will Arnett, Amy Poehler, Jenna Fischer, William Fichtner, Nick Swardson, and Craig T. Nelson
They say that the average Hollywood movie is aimed directly at the 15-year-old boy (Is that sad that they are the ones with the most disposable entertainment dollars?). And Blades of Glory fits that model perfectly. But what will these kids be served for their $9? (Okay, $32, if you include snacks.)
Blades provides tons of laughs from two of their favorite stars, an over-the-top, absurd storyline, and some one-liners that will likely become as memorable as the lines in "Napoleon Dynamite" and Talladega Nights. The downside is that they'll also be getting perverted jokes, sexual allusions, references to or portrayals of drinking, drugs, smoking, and homosexuality, and a barrage of violence – albeit mostly slapstick.
Blades of Glory tells the story of the overconfident skating idol Chazz Michael Michaels (Will Ferrell), who's as popular with the ladies as a rock star, but also as volatile. His temper lands in him in deep trouble with the revered Skating Association when he picks a fight with his competitor, the highly driven and former child prodigy Jimmy MacElroy (John Heder).
Jimmy, the "Skating Wunderkind," or "Uberskater," as they say, was rescued from an orphanage by a man (William Fichtner) who only wanted him for his talent and who pushed him hard to become a champion. In contrast to Chazz, Jimmy is "the picture of poise" – that is until Chazz messes with him one too many times. At the World Championships, the two men tie for first place, but the would-be victory ends in a brawl and the governing board strips both men of their gold medals and bans them from the sport for life. To add insult to injury, Jimmy's father disowns him for his failure and abandons him. Chazz goes on to become a heavy drinking, skating, cussing, evil wizard character, and Jimmy licks his wounds by working in the back room of a sporting goods store.
All seems hopeless until a creepy gay stalker, Hector, (Nick Swardson) shows up at Jimmy's warehouse and presents him with a great way to get around his skating ban. It turns out that Jimmy can resume his career and start competing again IF he will sign up under the "couples" category with Chazz as the first male/male figure skating pair in history. After some hilarious antics to get the old enemies onto the same team and back in the game, their coach, (Craig T. Nelson) must pull out all the stops to teach them some scary, cutting-edge moves in time for the next competition.
But even if the men learn to get along and master their moves, they also have to face the formidable obstacle of their evil competition – Stranz and Fairchild Van Waldenberg (Will Arnett and Amy Poehler), who have blackmailed their sweet sister, Katie (Jenna Fischer) into spying on the unlikely male duo and trying to break them up. If Chazz can overcome his issues (he's a sex addict), and if the good boy, Jimmy, can come to terms with the truth about his new crush, Katie, perhaps the men will have a fighting chance to create new lives for themselves and revamp their fame.
Have something to say about this article? Leave your comment via Facebook below!
advertise with us
Example: "Gen 1:1" "John 3" "Moses" "trust"
Advanced Search
Listen to Your Favorite Pastors