Life of Pi Full of Wonder, but a Poison Pill
Christian Hamaker, Crosswalk.com Contributing Writer
Wednesday, November 21, 2012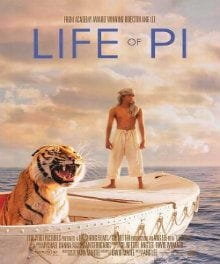 DVD Release Date: March 12, 2013
Theatrical Release Date: November 16, 2012
Rating: PG for emotional thematic content throughout, and some scary action sequences and peril
Genre: Drama
Run Time: 127 min.
Director: Ang Lee
Actors: Suraj Sharma, Irrfan Khan, Rafe Spall, Adil Hussain, Shravanthi Sainath, Gerard Depardieu, Tabu
English theologian Ronald Knox once quipped, "Comparative religion is an admirable recipe for making people comparatively religious." The current spirit of our age is to embrace many faiths as leading to the same god, not a philosophy that works with orthodox Christianity. The Bible practically screams warnings against such thinking, such as in 1 John 4, 2 John 1:7-11, 1 Timothy 4, 2 Corinthians 11:3-4—the list goes on.
Life of Pi, the new film from director Ang Lee (Brokeback Mountain, Crouching Tiger Hidden Dragon) and based on the bestselling book from Yann Martel, has, at its core, a message that Christians reject. But—can there be a "but" after that?—the filmmaking in Life of Pi is often nothing short of spectacular. It has images of beauty and power that won't be matched by any other film this year. Visually, it's marvelous—it literally contains one marvel after another. But sandwiched in between those thrills is a message that's contrary to the Gospel.
The core story of Life of Pi is told by Piscine Patel, or "Pi" for short, (played by Irrfan Kahn as an adult and by Suraj Sharma as an older teen) at the behest of a character credited only as "the Writer" (Rafe Spall, Anonymous). The Writer, hoping to overcome his atheism, has been directed to visit Pi and hear his tale.
The son of a zookeeper (Adil Hussain), Pi spendshis early life in India, where he becomes a religious pilgrim of sorts. By the time he's an adolescent, Pi has: embraced Hinduism, claimed to have found Christ, and converted to Islam.
His father is less interested in religion than he is in his ailing livelihood, so when he has a chance to sell the zoo animals, he packs his family, belongings and the animals onto a ship bound for Canada. A violent storm sinks the ship in the Pacific, but not before Pi boards a small lifeboat that he'll call home for many days.
He's not alone on the boat. Also aboard are an orangutan, a zebra, a hyena and a tiger. Soon there are only two of them left: Pi and the tiger, whom he calls Richard Parker.
The tiger is not tame, so Pi devises a way for he and Richard Parker to uneasily coexist. He rigs a raft to the boat so he can stay connected to the boat and its supplies while maintaining a healthy distance from the tiger.
Life of Pi spends a large chunk of its running time at sea watching Pi and Richard Parker try to survive, and the sights it reveals are full of surprise. From the shipwreck through to the resolution of Pi's plight, Life of Pi is simply wondrous. It's one of the most beautiful big-screen movies of recent memory, at turns terrifying (the ship's sinking is appropriately traumatic), amazing and heart-breaking.
Presented in 3D, Life of Pi soars during the time it spends on the sea (the half hour that precedes the sea portion, and the several minutes that follow it, are comprised mainly of people talking to each other, and in no way demand 3D). Flying fish, soaring whales, visions in the nighttime sky—all look ravishingly beautiful. The film's sound design is also superb, and its musical score by Mychael Donna is memorable.
Have something to say about this article? Leave your comment via Facebook below!
advertise with us
Example: "Gen 1:1" "John 3" "Moses" "trust"
Advanced Search
Listen to Your Favorite Pastors