Life Proves Complicated for People Like Us
Christian Hamaker, Crosswalk.com Contributing Writer
Friday, June 29, 2012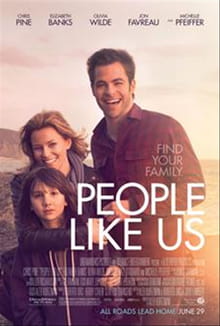 DVD Release Date: October 2, 2012
Theatrical Release Date: June 29, 2012
Rating: PG-13 (for language, some drug use and brief sexuality)
Genre: Drama
Run Time: 115 min.
Director: Alex Kurtzman
Actors: Chris Pine, Elizabeth Banks, Michelle Pfeiffer, Michael Hall D'Addario, Olivia Wilde, Phillip Baker Hall, Mark Duplass, Jon Favreau
Counter-programming is a strategy fraught with peril during summer movie season. During a time when mainstream releases serve up more than the usual number of semi-coherent, semi-literate "stories" dominated by rock-'em-sock-'em special effects, a film or two usually gains "sleeper" status by catering to a different demographic. However, those films rarely come from major studios. Instead, the summer sleepers are often independent or foreign releases that, at their peak, play on a smaller number of screens than major Hollywood releases during their opening weekends.
That makes People Like Us an anomaly—and a major risk for Disney and Dreamworks, the studios behind the film. Opening the same weekend as the latest Tyler Perry film (Madea's Witness Protection) and in between Brave and The Amazing Spider-man, People Like Us is in danger of being overlooked. Starring actors who haven't established themselves as major box-office draws, the film easily could get lost amid the myriad of other choices at the multiplex. That would be a shame, because its deft handling of complicated situations makes People Like Us one of the best American films released so far this year.
The story focuses on Sam (Chris Pine), a slick businessman who's found a way to successfully package an old concept: bartering. He hits up investors and executes deals, trying to keep the operation going while his boss (Jon Favreau) deals with two ex-wives and a son in rehab.
Just as one deal unravels and his company comes under scrutiny for financial mismanagement, Sam receives more bad news: His dad has died. But when his girlfriend (Olivia Wilde) delivers the news, Sam, stunned but far from grief-stricken, responds, "What's for dinner?" Sam makes it clear that he'd rather be anywhere than at his father's funeral, angering his mother (Michelle Pfeiffer).
Facing mounting legal troubles and a pile of debt, Sam is tasked with making good on his father's final wish: the delivery of $150,000 in cash to Frankie (Elizabeth Banks) and her son, Josh (Michael Hall D'Addario). Sam befriends Frankie and learns that she is a mess—an alcoholic who isn't sure which of her past lovers is Josh's father—but, tempted to keep the money for his own use, he doesn't divulge the reason he's getting to know her.
As Sam insinuates himself into the lives of Frankie and Josh, People Like Us blossoms into a complicated human drama. The film establishes the connection between Sam and Frankie early (this review won't tell because it's better discovered while watching), but the story's drama is just beginning. The film navigates the tricky terrain of bringing together two attractive leads, while tiptoeing around the romantic payoff viewers have come to expect from this sort of set-up. People Like Us is about a different kind of love—not the romantic kind, but the kind that puts the needs of others before our own.
Have something to say about this article? Leave your comment via Facebook below!
advertise with us
Example: "Gen 1:1" "John 3" "Moses" "trust"
Advanced Search
Listen to Your Favorite Pastors