Love & Other Drugs Never Recovers from an Identity Crisis
Christa Banister, Crosswalk.com Contributing Writer
Wednesday, November 24, 2010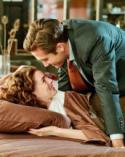 DVD Release Date: March 1, 2011
Theatrical Release Date: November 24, 2010
Rating: R (for strong sexual content, nudity, pervasive language and some drug material)
Genre: Drama, Romance, Adaptation
Run Time: 113 min.
Director: Edward Zwick
Actors: Jake Gyllenhaal, Anne Hathaway, Hank Azaria, Judy Greer, Oliver Platt, Josh Gad, Gabriel Macht

It was the famed American playwright T.S. Elliot who once said that "good writers borrow; great writers steal," and that distinction couldn't be more spot-on in Edward Zwick's (Defiance, Blood Diamond) latest film, Love & Other Drugs.

Rather than simply sticking with a somewhat faithful adaptation of the memoir the studio bothered optioning in the first place, namely Jamie Reidy's Hard Sell: The Evolution of a Viagra Salesman, the movie's three screenwriters liberally borrow from a veritable superabundance of source material instead. Part Love Story, part Up in the Air with a smidge of the satirical spirit of Thank You for Smoking, Love & Other Drugs never quite knows what it is, and the story ultimately suffers for it. Truth be told, bothering to label it "good" is probably too strong of praise.

Given the screenplay's decidedly directionless course, one can't help but wonder if all the accompanying sex and nudity was meant to compensate for its shortcomings. In fact, you can practically imagine how the Hollywood studio execs envisioned it still working in their favor: "Maybe it we keep showing two very attractive people in the buff for the bulk of the film's running time, people will probably forget that we've got absolutely no idea what this movie is really supposed to be."

But for whatever reason that Love & Other Drugs is suffering from a major identity crisis, it certainly doesn't do the audience—or the actors—any favors. And just in case you haven't already guessed, the film is a far cry from the standard issue rom-com that's front and center in the trailers.

For the record, Jamie (Jake Gyllenhaal) and Maggie (Anne Hathaway) don't exactly meet cute. Well unless, your particular brand of romantic poison involves being wooed by someone trying to sleep his way into the good graces of the medical community. See, as a pharmaceutical rep, Jamie does whatever it takes to get the drugs he's pushing into the hands of patients, even if it means posing as a medical intern so he can help a Pittsburgh-based doctor (Hank Azaria) "better access the needs of his patients." And while he's providing this oh-so-important service to mankind, he gets a sneak peek at Maggie's breast as a bonus and suddenly decides that he can't live without getting her number.

Through his dubious powers of persuasion, which basically entail non-stop flattery, buying flowers for the front desk clerk and regularly bedding a lonely nurse (Judy Greer), Jamie eventually gets her digits and starts giving Maggie the ol' hard-court press. As it turns out, though, Maggie doesn't immediately fall for his cheesy lines and best puppy-dog glances. She's a far more sophisticated minx, after all, and casual sex without commitment isn't just fine with her, it's actually preferred.

Of course, Jamie and Maggie's reasons for enjoying life without the perceived noose of actually staying together couldn't be more different. While Jamie is the textbook narcissist with a wildly insatiable appetite for whatever—and whoever—suits him in the moment, Maggie employs the "love 'em and leave 'em" philosophy as a coping mechanism since she's suffering from the early onset of Parkinson's disease and doesn't want to burden anyone.

Given that Jamie hasn't ever cared about anyone but himself, something that plays out humorously when he tries telling Maggie that he loves her, being with Maggie is a huge step in his personal growth. And as these characters spend more and more time together, and yes, even some outside of the bedroom, too, Jamie and Maggie both eventually realize the life-giving value in a connection that's not merely carnal.
Have something to say about this article? Leave your comment via Facebook below!
advertise with us
Example: "Gen 1:1" "John 3" "Moses" "trust"
Advanced Search
Listen to Your Favorite Pastors