Love Binds Ever Sweetly in The Vow
Susan Ellingburg, Crosswalk.com Contributing Writer
Friday, February 10, 2012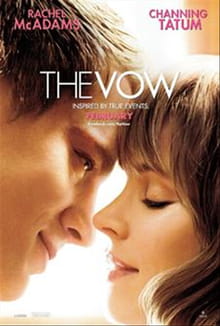 DVD Release Date: May 8, 2012
Theatrical Release Date: February 10, 2012
Rating: PG-13 (for an accident scene, sexual content, partial nudity and some language)
Genre: Drama, Romance
Run Time: 104 min.
Director: Michael Sucsy
Actors: Rachel McAdams, Channing Tatum, Jessica Lange and Sam Neill

The Vow is everything a good love story should be: funny, sweet, charming, and romantic with a capital "R." In a stroke of perfect timing, this sweetheart of a movie releases just in time for Valentine's Day. (Heads up, guys: this would be a smart choice for a February 14 date. Trust me on this.)
The eye candy's not bad, either. Channing Tatum (Haywire) is adorable as Leo, a young husband devoted to his quirky, artist wife. From the moment their eyes meet across a crowded room (at the Chicago Department of Motor Vehicles office, no less) he is determined to woo and win the lovely Paige (Rachel McAdams, Sherlock Holmes: A Game of Shadows). And he does. Their perfectly precious wedding—and their deeply personal vows—are sure to prompt contented sighs from female moviegoers of all ages.
Unfortunately for Leo, the couple's shared history has to be told in flashback. Leo tells us he believes that "moments of impact define who we are" and one of those moments of impact involved a large truck, resulting in a massive brain injury to Paige. She survives but her memory does not . . . not all of it, anyway. Not the part where she left law school to become an artist, moved to the city, and fell in love with Leo.
Naturally, he's devastated. Things only get worse when Paige's parents show up. She hasn't spoken to them in about five years, but she doesn't remember that, either. Mom and Dad would like to pretend that whole family quarrel thing never happened and sweep Paige back into the suffocating family fold. The suburbs, the country club, a respectable career, and an appropriate male partner are all waiting for her at home. Paige's life in the city with Leo? With any luck that can all be swept under the rug, too.
Meanwhile, Paige is left with a husband she can't remember, an ex-fiancé she can't quite forget, and serious confusion over who she has become. If we lose the moments that make us "us," then how do we know who we are? It's as if the buttoned-up, meat-loving lawyer-in-training closed her eyes and opened them a moment later only to look in the mirror and see a bohemian, vegetarian artist with "weird hair."
McAdams does a good job portraying Paige's emotional tightrope walk between the girl she remembers being and the one people tell her she's become. (One style note: seriously, what is up with that awful hair color she sports the last half of the film? Were they trying to make her look bad?) Tatum is the quintessential heartthrob as the charming, compassionate, hopelessly-in-love Leo. Meanwhile, Sam Neill (Legend of the Guardians: The Owls of Ga'Hoole) pretty much phones in his performance as Paige's controlling father while Jessica Lange (as Paige's mom) all but steals the show with an emotional scene near the end.
Have something to say about this article? Leave your comment via Facebook below!
advertise with us
Example: "Gen 1:1" "John 3" "Moses" "trust"
Advanced Search
Listen to Your Favorite Pastors