Love Burns True in Jane Campion's Bright Star
Jeffrey Huston, Crosswalk.com Contributing Writer
Friday, October 02, 2009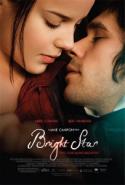 "Upon my Soul I can think of nothing else—The time is passed when I had power to advise and warn you again[s]t the unpromising morning of my Life—My love has made me selfish. I cannot exist without you—I am forgetful of every thing but seeing you again—my Life seems to stop there—I see no further. You have absorb'd me."
If you want to feel that, then go see Bright Star.
Yet anyone familiar with Keats' life or the director's films knows this bliss can't last forever. Campion has made a career (and won Oscars) off of tortured love stories, yet Bright Star is different (even opposite, and superior). Her past films have been about tortured people who destroy their circumstances. This, conversely, is a bittersweet arc of pure people who are tragically tortured by circumstances. They are not ruining their lives; it's life that threatens to ruin them. This context earns our empathy, and it's what helps lift Bright Star above Campion's previous achievements.
Mannered, restrained, and underplayed to the hilt, Bright Star is (miraculously) anything but stuffy. It's a deft feat, avoiding even a hint of melodrama, anchored by two fiercely vulnerable performances. Ben Whishaw (Brideshead Revisited) brings full clarity to Keats, naturally balancing the unadulterated passion of an artist in love with the reason and ethics that the responsibility of love requires. His is not the petulant or moody poet, but a manly one. As Fanny Brawne, Abbie Cornish (Stop-Loss) is a revelation. Underneath a stoic veneer, she conveys a beautiful whirlwind of love inside her—its confusion, its completion, its freedom. A mere gulp is enough to reveal her full passion for Keats, and we feel its overwhelming grip. This is a career-making performance.
For those of us who believe in true love, the inescapable destiny of John Keats and Fanny Brawne leaves us in a bittersweet mystery. Why would God create such a beautiful love only to allow such cruel tests? It seems unfair, even unjust. But that's why poetry exists, Keats discovers. It allows us to live in what he called a "Negative Capability"—the ability to live in uncertainty, with peace, and have "doubts without any irritable reaching after fact & reason."
"Poetry," Keats concluded, "soothes and emboldens the soul to accept mystery." With artistry, insight and tenderness, Bright Star soothes and emboldens our souls in the same way.

CAUTIONS:
Drugs/Alcohol Content: Incidental smoking.
Language/Profanity: None.
Sexual Content/Nudity: A sensual reference to kissing, as well as a few passionate kisses - but on the whole, extremely chaste.
Violence/Other: None.



Jeffrey Huston is a film director, writer and producer at Steelehouse Productions in Tulsa, Okla. He is also cohost of "Steelehouse Podcast," along with Steelehouse Executive Creative Mark Steele, where each week they discuss God in pop culture.

To listen to the weekly podcast, please visit www.steelehouse.com or click here. You can also subscribe to "Steelehouse Podcast" through iTunes.



Have something to say about this article? Leave your comment via Facebook below!
advertise with us
Example: "Gen 1:1" "John 3" "Moses" "trust"
Advanced Search
Listen to Your Favorite Pastors