Madea's Welcome Worn Out in Big Happy Family
Christa Banister, Crosswalk.com Contributing Writer
Monday, April 25, 2011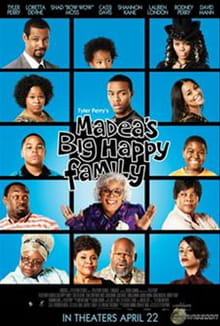 Release Date: April 22, 2011
Rating: PG-13 (for drug content, language and some thematic material)
Genre: Comedy, Drama
Run Time: 106 min.
Director: Tyler Perry
Actors: Tyler Perry, Loretta Devine, Cassi Davis, Shannon Kane, Isaiah Mustafa, Natalie Desselle, Rodney Perry, Tamela J. Mann, David Mann, Bow Wow, Lauren London
Love her or hate her, one thing's for sure when it comes to Tyler Perry's beloved Madea: There's never any ambiguity on how she feels about anything—or anyone.
While her unique brand of tough love (yes, the requisite slap across the face or a good verbal beatdown is usually involved) has provided some enjoyable comic relief in the past, Madea's over-the-top antics have grown very tired in Tyler Perry's Madea's Big Happy Family. Truth be told, it seems she's simply run out of new material for her repertoire as many of the punch lines are recycled from previous efforts. Well, unless you count the scene when she purposely crashes her Cadillac into a fast food restaurant after discovering they're out of ham for her breakfast sandwich (are you laughing yet?).
Unfortunately, the same can be said for Perry's diminishing arsenal as Big Happy Family follows the oh-so-familiar trajectory of anything with "Madea" in the title. Unlike his last film, For Colored Girls, an imperfect but still ambitious attempt to shed light on the problems of women, particularly women of color, Big Happy Family is one giant step backward. Sure, there's nothing wrong with cutting loose and having a little fun, especially given the heavy storyline, but Perry's juvenile humor often doesn't sync with the serious message he's serving alongside it.
Really, it's just too bad the takeaway can't feel a little more organic in the first place. In Madea's universe, there's practically a no-tolerance policy for shades of gray. Basically, there are good people and bad people, and this time around, everyone who's truly heinous happens to be a woman. And considering how one-note these characters are, there's not only a lack of a genuine surprise when everything conveniently works out by film's end, but it ultimately doesn't place much faith in the audience to draw their own conclusions either.
As wonderful as it is to see such a God-fearing woman at the center of a movie that did some seriously good business at the box office its first week out, Shirley (Loretta Devine) is almost too good to be true. In fact, when her doctor tells her that her cancer has returned, she smiles and actually thanks him, saying "Every day that God gives us is a gift. And when He stops giving it to me, I get to be with Him." Yes, what she's saying is absolutely right on the money and a comfort to those who know Him, but that's a realization that doesn't typically happen right out of the gate. Given that she's leaving a family behind that's in such disarray, you'd think she'd want a little more time on earth to connect with them.
Or maybe she's in such a hurry to meet Jesus because her kids are seriously annoying. First off, there's her oldest daughter Kimberly (Shannon Kane), a woman who looks like she's got it all together, anyway. Married to the Old Spice pitch guy (Isaiah Mustafa) and a mother of one, she simply can't be bothered with family because she's so, well, successful.
Have something to say about this article? Leave your comment via Facebook below!
advertise with us
Example: "Gen 1:1" "John 3" "Moses" "trust"
Advanced Search
Listen to Your Favorite Pastors