Marriage, Perseverance Propel Away from Her
Christian Hamaker, Contributing Writer
Friday, May 18, 2007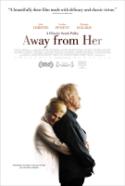 Release Date: May 18, 2007 (wide)
Rating: PG-13 (for some strong language)
Genre: Drama
Run Time: 110 min.
Director: Sarah Polley
Actors: Julie Christie, Gordon Pinsent, Olympia Dukakis, Michael Murphy, Kristen Thomson, Wendy Crewson
Early in Away from Her, a doctor asks Fiona (Julie Christie) what she would do if she saw a fire break out in a movie theater. Fiona, who may be suffering the onset of Alzheimer's disease, hesitates in her response, then dodges the question by mentioning that she and her husband aren't interested in "all those multiplexes showing the same American garbage."
If you've ever felt as Fiona does about current cinematic fare, then Away from Her is the antidote. Based on a short story by Alice Munro, and adapted and directed by Canadian actress Sarah Polley (who starred in The Adventures of Baron Munchausen and The Sweet Hereafter), Away from Her is graced with an amazing performance by Christie, and powerful support from her co-star, Gordon Pinsent, who plays her husband, Grant. Its depiction of a 44-year marriage union devastated by the onset of a degenerative condition may be smart counterprogramming for adults and older teens looking for a respite from the youth-oriented movies that dominate the screens each summer.
Fiona's troubles begin when she gets disoriented during one of her regular cross-country ski outings. At home, Grant hands her a frying pan to put away, and she places it in the freezer. Soon it's Fiona—not Grant—who begins reading up on Alzheimer's disease.
"Don't let a person make you feel guilty for your anger with God," Fiona tells Grant, reading aloud from a book about her condition while she's still mentally capable of grasping the impact of her ailment and the toll it will take on Grant. Seeking to ease his suffering, Fiona insists on being placed in a nursing home. She bluntly but lovingly tells Grant, "We are at that stage," and, "All we can aspire to in this situation is a little bit of grace." Fiona's faith is never spelled out, but her words, if only platitudes, are powerful nonetheless.
Things are bleaker for Grant, whose adjustment to life without his wife by his side comprises the second half of the movie. After a 30-day period during which he is not allowed to see Fiona, Grant discovers that she no longer fully recognizes him. His loneliness leads him to befriend Marian (Olympia Dukakis), whose ailing husband, Aubrey (Michael Murphy), is in the same home as Fiona. As Fiona deteriorates, she attaches herself to Aubrey, leaving Grant to wrestle with suspicions about the extent of Fiona's new relationship.
Chapter two of Genesis tells us, "The Lord God said, 'It is not good for the man to be alone. I will make a helper suitable for him.'" Away from Her, although not rooted in faith, is a beautiful screen portrait of what that means—of how marriage can heal our loneliness, and yet, because of human frailty and fallenness, leave us lonely again, as the mind and body begin to break down.
That fallenness extends to Grant's earlier days as a married man, with murky hints of his infidelity. Plagued by those memories, Grant wonders if Fiona's affection for Aubrey is her way of punishing him for his earlier violation of her trust.
Grant's decision to pursue his relationship with Marian beyond the platonic stage further muddies the moral picture of Away from Her. A shot of the two individuals in bed together, just after sex, is meant to be cathartic for the characters and viewers, but is disappointing in that is shows the violation of their oaths to love their spouses in sickness and in health.
Have something to say about this article? Leave your comment via Facebook below!
advertise with us
Example: "Gen 1:1" "John 3" "Moses" "trust"
Advanced Search
Listen to Your Favorite Pastors