Mortality's Dark Shadow Dominates Biutiful
Christian Hamaker, Crosswalk.com Contributing Writer
Monday, January 03, 2011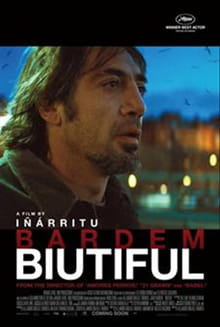 Despite a strong performance from Bardem, Biutiful is a film of despair that doesn't earn, nor attempt to explain, the spiritual reward it sets aside for its lead character. A more serious exploration of spiritual issues from Gonzalez Innaritu will have to wait for future films, but on the evidence of Biutiful, he'll need a collaborator who is more grounded in spiritual truths.

CAUTIONS:
Language/Profanity: Variety of obscenities, including the "s" "d," "a" words and "son of a b--ch," as well as the several uses of the "f" word.

Alcohol/Drugs: Several scenes of drinking and smoking, including drug use and sales; Marambra says she hasn't relapsed for five months, and says she's bipolar.

Sex/Nudity: Marambra dances topless above Uxbal's brother while smoking and drinking, rejects his advances and slaps him; two men kiss, and one reaches into another's pants; reminiscence about sex while lovers caress and kiss each other; Marambra begins to unbuckle Uxbal's pants, but he stops her; scenes at a strip club show dancers in costumes that resemble body parts; a woman is shown breast-feeding.

Violence/Crime: A dead owl; the self-administered drawing of blood; scene of urination reveals blood in Uxbal's urine; Uxbal is a middleman between immigrant laborers and others who move the merchandise; Uxbal pays bribe money to a police officer to keep him from raiding a sweatshop; drug-dealing; a man is struck by a car; a man is struck in the face by a club; vomiting; Uxbal attacks a man who won't pay him what he's owed; Uxbal touches his father's corpse; several dead immigrants, including small children, shown; a child has marks on his face, a sign of abuse; dead bodies shown in the water and on shore.

Marriage: Uxbal has custody of his children, whose irresponsible mother, Marambra, visits and sometimes cares for them; she carries on an affair with Uxbal's brother; Uxbal tells Marambra their kids "can't wake up to a different daddy every weekend."

Religion/Religious Issues: Paranormal visions of dead people, and an assertion of the ability to communicate with departed spirits, along with receipt of cash payment in exchange for communicating what he said and heard; Uxbal says he "helped" a child's spirit "on his way"; dead children shown in caskets; a church funeral; discussion about cremation; Marambra remembers when Uxbal read her palm; a woman assures Uxbal that "the universe will take care of" his children when he's dead, but Uxbal replies, "The universe doesn't pay the rent"; the woman says the dead suffer if they leave debts behind; she gives him talisman for his children; Uxbal says he tried to pray but didn't know to whom he should pray; woman tells him to ask the dead for their forgiveness; entrance into the afterlife cryptically pictured.

Questions? Comments? Contact the writer at crosswalkchristian@hotmail.com.

Have something to say about this article? Leave your comment via Facebook below!
advertise with us
Example: "Gen 1:1" "John 3" "Moses" "trust"
Advanced Search
Listen to Your Favorite Pastors